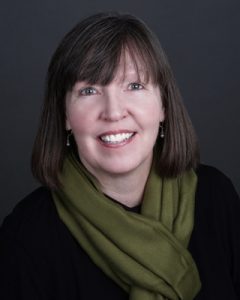 From the time of her childhood in Rochester, New York, Susan has always loved celebrations. She takes great joy in marking life events both great and small with her tremendous gift for hospitality.  Regardless of the occasion, Susan has a genuine talent for making everyone feel welcome, included and at home. She possesses a generous and lighthearted manner.
Susan holds a master's degree in theology from Boston College and has served as a chaplain at many area colleges & universities including Bryn Mawr, Haverford, Swarthmore and the University of Pennsylvania.
During those years she accompanied many people, both students and staff, through some of life's most joyous as well as most difficult times.
She treasures her ongoing connection with many former students for whom she has been privileged to share sacred life events such as weddings, baby blessings, house warming rituals and memorial services.
Susan has a deep passion for interfaith work. She has involved herself in efforts to promote awareness, understanding and justice among people of all faith traditions, as well as those who may have none.
She feels a special affinity for 12-Step spirituality, recognizing its power in healing and gratitude and when requested, is happy to include these elements in ceremonies.
After more than three decades here, Susan has become a true Philly girl and loves the uniqueness this city has to offer. She has given her fan's heart and baseball loyalty to the Phillies but also loves taking in the richness and diversity of the area's many interesting museums ranging from the Mutter to the Mummers. Sue has an artistic eye which manifests in her love for watercolor and oil painting and all kinds of antiques. She is a proud three-time attendee of PBS's traveling "Antiques Roadshow" but unfortunately has yet to hit it big with any of her own finds.
She is quick to laugh and a has wonderful sense of humor. She sees her work with Journeys of the Heart as a natural extension of the continued unfolding of her life and feels deep wonder and gratitude for the opportunity to enter into people's lives in this amazing work of ministry.
Susan Harte is the best in the officiant game. She was so easy to work with planning wise, wrote a thoughtful, sentimental, beautiful ceremony (with a touch of humor), and was a calming presence on the day of the wedding. I loved every part of our wedding, we felt it was perfect, but my favorite part was truly the ceremony. Which is kind of the whole point lol! I will forever cherish the ceremony Susan gave us, it really felt like a reflection of our relationship and was the perfect start to our marriage.
Thank you so much Susan <3 
Journeys of the Heart was amazing to work with!
Our venue recommend them, and we couldn't be happier. We worked with Susan, who really took her time getting to know us and crafted a beautiful and special wedding ceremony. She had so many little suggestions to make our ceremony special and made sure we were comfortable on the day. We recieved so, so many compliments on how amazing Susan was (especially from our extended family!) and our parents were absolutely thrilled. We would highly recommend!
Susan Harte from Journeys of the Heart was so helpful in assisting us in crafting our ceremony to make it personal, meaningful and just right for us! Highly recommend!
Personalized and thoughtful! 
We loved working with Journeys of the Heart! The team was super responsive and quick to answer our questions and match us with an officiant. Once we connected with our officiant Susan, she took the time to listen to what we were looking for and created a custom ceremony that suited our values and beliefs. Seamless experience!
The team at Journeys of the Heart made the experience of "designing" our ceremony so fun and easy! We received SO many compliments on our ceremony and we have Journeys of the Heart to thank. Professionals in every sense of the word!
Personal, Thoughtful, True to Us
For our ceremony we worked with Susan Harte from Journeys of the Heart and she was fabulous. We knew she was a fit for us from the start. She asked great questions to get to know us and craft a beautiful personalized ceremony. She was a calming presence during a very busy day. Scheduling meetings with her was also very easy and flexible. I would highly recommend Susan to any future couple.
We had a great experience with the Journeys of The Heart! Our officiant was Susan Harte. She was lovely and kind from the time we met and throughout the process. She conducted our ceremony with great care and a dose of humor. We are very grateful for having met Susan and would happily recommend her to our family and friends.
Susan did an incredible job! She took the time to meet with us over zoom multiple times to get to know us. The effort she put in really showed during our ceremony. It was moving, fun, and exactly what we wanted. I could not recommend her highly enough!
Susan was the perfect fit for the officiant we were looking for! She was so kind, genuine, 
personal
 and helpful! She made our ceremony so 
personal
 as if she had known us our entire relationship. We 
received
 so many compliments from our guests at how wonderful 
our ceremony
 was. She was there every step of the way to help us with everything from getting our marriage license to printing our vows and writing a love story about us! Highly recommend 
Susan
, so happy she was a part of our day!
We chose Susan Harte, with Journeys of the Heart, to officiate our wedding. Susan worked with us to craft a personal, meaningful ceremony that reflected elements of both of our faith traditions. We were so happy that our ceremony reflected our story together, expressed our gratitude to friends and family, and felt so personal to us. We received many compliments on our ceremony from guests who appreciated the unique aspects and personal touches. Susan also helped guide us in figuring out the logistical elements of obtaining the wedding license. Working with Journeys of the Heart simplified the process of creating our ceremony and kept the process organized and fun.
I just want to thank you for creating such a beautiful ceremony for us.  Looking back on the day, it was my favorite part. With all eyes on us, I was the most nervous for the ceremony, but as soon as we were up there, we felt so calm.  You helped us feel so comfortable and captured our journey so beautifully.  Our guests and especially our parents thought you were great and loved the ceremony.
So thank you again for being so awesome!  We sincerely appreciate your help and for making our big day so special!  Each couple that chooses you for their ceremonies in the future are certainly the lucky ones! 
We are so lucky that we found Susan to prepare and deliver an amazing ceremony for our wedding! The entire process of working with her was an absolute joy. As soon as we spoke with her we could feel her knowledge, experience, and professionalism and we knew we were in good hands. She was patient and understanding as we worked through her fun and painless process of designing our perfect ceremony and vows. On our wedding day she was on time and fully prepared, and her calm confidence was reassuring and set any nerves we were feeling at ease. She did a fantastic job and many of our guests told us it was the nicest wedding ceremony they'd ever attended. Thank you, Susan, for being such an amazing and integral part of our special day!
Thank you!
We contacted Journeys of the Heart in a panic when a late snowstorm threatened our original officiant's attendance. I heard back from 'Diane' almost immediately and was instantly put at ease. I wish that I could rate them a 10 stars out of 5. We quickly came up with a plan, and Susan Harte (lovely name for a wedding officiant!) worked with us on timing, vows, ideology, and insight. She could not have been more perfect for us in any situation, let alone this one. We are two men in our mid 50s who needed a simple but meaningful ceremony. We discussed options for vows, but frankly she 'got it' from the very beginning and we made very few changes. She was pleasant and professional, flexible and perfectly on time. The fee was very reasonable and appropriate. We would highly recommend Susan, Diane, and Journeys of the Heart to anyone.
Susan,
We just wanted to send you a very quick note to tell you how sincerely grateful we are to you. We know we had the most incredible ceremony yesterday; it was so personal to us, and we credit that to you and your amazing work. You really took the time to get to know us as you guided us through everything. But beyond that, what we are most grateful for is the calming presence you provided both pre & post ceremony – even in chaotic moments, you grounded us right back, helping us to remember to take in and enjoy the moment.
Additionally, we cannot tell you the number of people that came up to us throughout the night to compliment the ceremony as their favorite part of the entire evening. It was truly perfect in every way!
Thank you from the bottom of our hearts,
Susan was Great!!
When Covid forced us to postpone the big event but we wanted to keep our original wedding date, Susan stepped up and offered to officiate both ceremonies. We can't thank her enough!
Susan was great as a last minute addition to our wedding! We stubbornly thought that we could do without an officiant but I am glad we decided to hire her. Her consultative approach and personalized vows were just enough serious and just enough funny and we loved the balance. Would recommend very highly!
Beautiful ceremony
Susan Harte was our officiant and from the first phone call we just connected. She took the time to hear our love story and answer questions during initial consultation. You could tell she is genuine and really loved hearing love stories. She kept us on track without making us feel pressed to get things done. She is so lovely and we were so happy we chose Susan from Journeys of the heart. Everyone commented on what a lovely ceremony it was.
Susan Harte is amazing!
We booked Journeys of the Heart solely based off internet recommendations and reviews, and we are SO glad we had Susan Harte as our officiant for our September 2021 wedding. We originally were paired with Diane Smith-Hoban, however, she unfortunately had a conflict for which we were then paired with Susan. Our experience with Diane was wonderful, and the transition to working with Susan was just as lovely. It was actually nice that we got to meet Susan via Zoom after already having a rough draft of our ceremony. She helped guide us in the perfect direction of what our ceremony should look like based on her expertise and what is important to us as a couple. Our ceremony was one of the highlights of our wedding day. It was special, thoughtful, and included both mine and my husbands parents perfectly, highlighting their marriages and how their relationship inspired our bond. We had multiple people come up to us and let us know that the ceremony was unlike any other they have been to and they truly enjoyed the personal touch that Susan gave in her ceremony delivery. If you need an officiant for your wedding, I would highly recommend Susan Harte from Journeys of the Heart. Thank you so much for everything!
Speechless. Grateful.
Sue Harte with Journeys of the Heart was truly one of our favorite memories of our wedding day. My husband and I were faced with a venue change three months prior to our wedding due to ongoing covid restrictions in the city where our original venue was. After a two year engagement, we had all of our vendors booked including our officiant. Unfortunately our original officiant was not available on our new date and fled with our prepaid deposits, which was such a punch in the gut since all of this was completely out of our control. A coworker of mine recommended Journeys of the Heart and to our absolute delight, we were paired with Sue thanks to Diane Smith-Hoban. She was kind, selfless, genuine, and such a warm, glowing soul. She executed an incredible wedding ceremony for Tyler and I on Friday, June 4th of 2021 after months of stress, uncertainty, and my husbands dad passing away unexpectedly just months prior to our wedding. Our guests have been raving ever since about how personable, fun, special and memorable our ceremony was. Four months later, we can confidently say our ceremony was our favorite part of the day and we have Sue to thank for that. We are so grateful. Thank you.
We were very pleased with our experience with Journeys of the Heart. Susan Harte was our wedding officiant and she put together a ceremony that was exactly what we wanted. Not having a church wedding, we were looking for someone to conduct a ceremony that came across as significant but not too serious, spiritual but not too religious, and Susan delivered exactly that. There were not many dry eyes in the audience (or at the altar) and Susan's kind, effortless manner was perfect for the occasion. We received many compliments from guests about how beautiful our ceremony was.
Wonderful Ceremony with Susan Harte!
We worked with Susan Harte to officiate our wedding and she was wonderful. We had a wide selection of officiants to choose from with Journeys of the Heart but once we met Susan, we hit it off and knew she was perfect for us. She did an amazing job on our wedding, was very patient with us as we put together our vision for the ceremony. She helped us bring our tree planting ritual to life and it's one of my favorite moments of my wedding day. I would highly recommend working with Susan!
Dear Susan,
After taking a moment to really soak it in, Tyler and I think our ceremony was our favorite part of the whole day!
You were outstanding and so many of our guests have commented on how fabulously you did.
Thank you for everything and for making this so incredibly beautiful for us (and so last minute too!)
Don't look any further for an officiant!
Susan Harte was absolutely wonderful! She personalized the ceremony and engaged the guests during the celebration. She was very prepared and made the newlyweds very comfortable. We could not have asked for a better officiant.
Dear Susan,
Pat and I can't thank you enough for the beautiful and heartfelt ceremony you gave for our wedding. I really feel it was meant for us to find you to be our celebrant. We both feel we have found a friend! Please keep in touch.
With Love and Thanks,
Susan was the best possible officiant for our mini wedding, she was absolutely amazing!
Susan Harte officiated our wedding ceremony and we could not have been happier to have her join our special day! All of our guests had so many lovely compliments after our ceremony about her. Our friends that were there in person and our families on Zoom thought it was an amazing little ceremony. We were so lucky to be united by a wonderful, kind, humorous, and expert officiant like her. Her speech was very heartwarming! She was organized, calm, and very responsive before the ceremony as well. I would highly recommend Susan to anyone who is looking for an officiant, she will definitely make your day special!
Susan was wonderful, so patient with us and allowed us to easily put together a secular sermon. Additionally she was patient as we edited the final draft and came up with our story to share with family and friends. I couldn't have asked for any better officiant
Absolutely perfect!
Susan Harte from Journeys of the Heart is so amazing – she took two people that had no idea what to do or what to expect and led us professionally and compassionately through the entire process – from planning to the big day itself.  She created a soul inspiring ceremony that truly spoke to the hearts of all involved, and made my husband and I feel safe, joyous, and heard.  Susan made our day!
Susan was witty and perfect
Susan Harte officiated our wedding. She really expressed the love between us. All the way from the very first draft, I knew we were in good hands. Susan was the perfect person for our big day and her cute bride and groom selfie at the end made us love her even more!
Susan Harte with Journeys of the Heart was fantastic!! The moment we met her, she made us feel very comfortable. She walked us through her process and heard our story in detail. She took copious amounts of notes. We wanted to incorporate elements of a Hindu marriage ritual into a western style ceremony. We shared a few ideas with her but we didn't know exactly how to do this fusing of styles. A few days later she sent over a first draft of the ceremony and had done quite a bit more research into the Hindu traditions we wanted. After we reviewed and slightly edited the first draft, we were pretty much done! We knew we were in good hands from the start, but her thoroughness and thoughtfulness really came through in the days leading up to the wedding and on the wedding day. She made the two of us, our family, and our friends that were part of the ceremony feel welcome and at ease. Thank you, Susan, for officiating our wedding. We're so grateful to you and Journeys of the Heart. Highly recommend!
Hi Diane and Susan,
I hope you are both doing well! Over the past month and a half, we can't even tell you how many times we told the story of how you saved the day for our wedding! It truly means the world to us that you were able to help and work with us on the most special day of our lives.
Susan was such a joy to work with, she got everything organized, in order, and just in time to swoop in and make all of my family members cry! We received so many compliments on her ceremony and how truly heartfelt it was, and that was only having contact with you for two days before! Not only that, we received our marriage license in a flash — all thanks to her diligence! We wish we would have made the decision to go with your company from the start, but we are so grateful for both of your dedication to this business and were completely honored to have you officiate our ceremony, even if we did learn the hard way!
So, we apologize for the lateness in saying this, but thank you from the bottom of our hearts. The day would not have been the same without Susan and Journeys of the Heart. We will most definitely be recommending you to ALL of our friends, near and far! Please keep in touch and enjoy the photos!
October 2015
Journeys of the Heart ended up officiating our wedding as part of a happy accident. With only 48 hours before our ceremony at Please Touch Museum in front of 225 people, our original officiant essentially left us at the altar. We found out just after midnight on the Friday morning before our Saturday wedding. In a panic, I sent an email out to Journeys of the Heart with the hopes that they could perform a small miracle. Not 10 minutes after I sent my e-mail, did I receive a response from Diane, telling me to rest easy, I was in good hands, and I would be taken care of. Thanks to Journeys of the Heart, we had lined up our new officiant, Susan Harte, between 12:00 AM and 10:00 AM on Friday, the day before our wedding. Diane's quick action and Susan's flexibility even allowed for us to have the pleasure of meeting Susan on Friday evening at our rehearsal dinner. She took the time to come meet us so we could put a face to the name, and so we could meet the person who would be a part of such a momentous occasion in our lives. Susan was incredibly sweet, understanding, flexible, and she helped guide us toward a more well-rounded ceremony, as we had to write our own ceremony thanks to the inaction of a company whose name will not be mentioned. Journeys of the Heart helped wipe the slate clean of the awful preceding company to ensure that we could move on with the rest of the planning for our big day.
Susan's experience during the ceremony shone through, she helped guide us where to be and when, without ever making it apparent that this was a spur-of-the-moment incident. We were completely in her hands and she confidently and flawlessly delivered. We cannot thank Journeys of the Heart enough for their prompt action and amazing professionalism in such a pinch!
Amazing and Caring
From the start, Susan was invested in learning about us and who we were as people and as a couple. She rejoiced in hearing our story, getting to know us over a series of phone calls, emails and in person. We were married in Philadelphia, but not from the area. That did not stop Susan from being present and meeting us in a random number of places from our hotel to the Wegman's coffee shop.
She was an integral and amazing part of our day, but more importantly the preparation for our wedding. She was critical in helping us devise a ceremony that brought together the best of who we are. She was creative in working with us on the components and parts of our ceremony that made it so unique. In addition, she collaborated with each of us individually, helping us draft our vows.
Overall, we could not have asked for a more special person to officiate and bring us together on our day. Many of our friends and family remarked how Susan contributed to making it an incredibly moving and memorable experience.