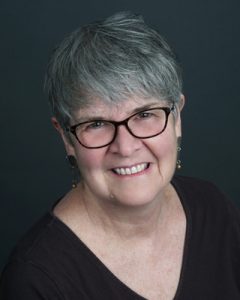 Susanne has a deep love of ritual and ceremony, from sharing coffee with her husband each morning to honoring and celebrating life's major passages. She feels incredibly blessed with abundant opportunity to witness those passages as her work with Journeys of the Heart brings more than the usual amount one might see in a lifetime!
Susanne sees committed partnership as a spiritual practice. Her personal love story began with a total 'leap of faith' as she and Tom (her husband of 35 years) stopped in their tracks the day they met and spent their first few minutes just staring at one another, speechless! (Susanne really "gets it" when couples report "love at first sight.") Knowing they were a meant-to-be from those first moments has offered the solid ground on which they have traveled together over the years, staying committed to their individual growth as well as the work of creating intimate partnership.
Susanne has been blessed with many 'careers' in her life. She has worked in an engineering firm, in the catering world, with the deaf community, in the social services field… each 'career' bringing joy and creative challenge and opportunities for service, all feeding the soul and expanding the heart!
She says now she gets to simply 'love people for a living'! Her work with Journeys of the Heart -in all its many forms: weddings, baby blessings, memorial services and more- is the main way she lives into this career!
Susanne would say the most important 'work' in her life, though, is simply being a mom. She sees her 2 children as her greatest teachers and has always been one to say "I love this age," whether she was talking about her (now adult) children as 2, 15 or 30 year olds.
Susanne and Tom live tucked up on a hill in Stroudsburg, PA with their 'youngest' family member still at home, their beloved dog, Max. They heat their home with wood in the winter (another daily ritual) and cool it with shade in the summer; they make beautiful rich earth in their compost piles; grow as much of their own organic veggies as possible; and are always working on their ever-present list of house projects. They live in what Susanne calls 'a people house' as they find deep satisfaction in having family and friends come to share a meal and music, laughter and games… always finding a way to celebrate life and love!
My goodness – the perfection!
We worked with Susanne Wilson and we cannot say nearly enough amazing things about her! She was responsive and made sure we video called since we couldn't meet in person. She was flexible to my now husband's super busy schedule but the day of was just perfection! The ceremony was so focused on the equality between us and was just so sweet. It even made my husband cry which was amazing! It was so sweet and had everyone feeling the love for sure!
From the moment my husband and I got on the phone and heard Susanne Wilson's voice, we knew that we had found our match. Both Susanne and Journeys were recommended to us by our venue, without a beat of hesitation, after we described exactly what we wanted from our ceremony. We met once or twice prior to the wedding, both by phone and Zoom (this was still during COVID times…) and we were able to discuss everything we wanted to see for the beginning of our special day, as well as the start to the next chapter in our lives. After a two hour long consultation, filled with stories and tons of laughter, Susanne was able to take what we gave her and make it into a ceremony remembered not just by my husband and myself but by every one of our guests. Susanne is more than just our officiant but also a dear friend, one we will forever cherish.
Thank you for everything!
Absolutely amazing officiant and vendor
We had the honor of working with Susanne Wilson from journeys of the heart. To say the least, this woman made our wedding ceremony unique, beautiful, special and truly our own. We worked with Susanne for approximately 2 1/2 years before our wedding. Within that time she was much more than just our officiant, as she really grew to understand who were were individually but also as a couple. She truly cared about every single detail that we wanted to include in our ceremony. We were extremely nervous about planning our wedding ceremony because we had no idea where to start. Susanne was excellent at providing examples and suggestions of where certain pieces of writing and rituals would be the best place. We cannot thank her enough for the fantastic job that she did. Journeys of the heart, thank you so much for setting us up with an outstanding officiant and more importantly an amazing person.
Susanne was amazing!
Susanne Wilson was absolutely amazing and we couldn't recommend her more. I'm so grateful we were able to work with her and she curated the perfect ceremony for me and my husband. She was able to take my vision and write a beautiful ceremony. It was so cool to work with her during the process and how she took my thoughts and ideas and made them sound amazing. She is truly talented at her job!! Our ceremony was so personal to us and our families and was our favorite part of the day.
The best ceremony!
Susanne helped us create the perfect ceremony! Everyone has told me how loving the ceremony was! She created an atmosphere of respect and love!
We are so thrilled to have had Susanne as the officiant for our intimate wedding! She crafted a ceremony that was touching, personal, and truly the center of our day. We could not have asked for a warmer person to invite into a day that otherwise consisted of family only. From the first time we met with Susanne a few months before, she put us at ease and thoroughly explained the process of building a ceremony, giving us options for what we might want to include. We wanted our family to feel like they were involved in our union, not just witnessing it. She suggested rituals like a ring warming and readings done by our mothers. Although neither of us are practicing, both sets of parents are, so we wanted a ceremony that walked that line in a way that made all parties comfortable. Susanne immediately knew what would work for us, and once we read her first draft we knew we were in good hands. Leading up to the day, we all worked together to put everything together – our poorly worded suggestions were turned into beautifully written parts of our finished ceremony. She was very flexible, making changes up until the night before. I would recommend her to anyone, and I can't picture our day with anybody else. Thank you, Susanne!
Amazing Experience
Journey of the Heart was critical to ensuring that our wedding day would be the best day of our lives! When meeting our officiant, she was completely open-minded and fully engaged in learning about our story and relationship. She turned our simple words and memories into a beautiful, heart-felt, pure, and amazing ceremony. Everyone continuously comments on how well she had conducted the ceremony and molded it to who we are. We were always grateful for her kind words and support throughout the entire process.
Susanne Wilson is fantastic!
Where to even begin. We had the absolute pleasure of working with Susanne Wilson for our wedding ceremony. From our first meeting Susanne made us feel like family. She truly cares about the couples she is servicing and about the ceremony you create with her. Whether you know exactly what kind of ceremony you want, or you have absolutely no clue, she is well prepared to guide you through the process. Our ceremony was unforgettable. Susanne really captured how important family was to us and created a beautiful ceremony that touched everyone's hearts. Our guests told us all night long and the days following the wedding how absolutely incredible our ceremony was. And we feel the same. It felt so intimate, and everyone there felt that as well. I can't thank her enough for this beautiful memory/experience she has given us.
Dear Susanne,
We wanted to thank you so much for the beautiful ceremony that you gave us. Honestly, the rest of our wedding was pretty hectic and my memories of the reception already blur together, but our ceremony will stand out in my memory for the rest of my life. You made us feel so comfortable as you guided us through the ceremony, that we were able to really feel present in the moment. We can't thank you enough for your heartfelt words during the ceremony and for your kindness and patience as we planned everything out in the last few weeks before the wedding. We couldn't have asked for a more beautiful and personal ceremony. We both agree that choosing you as our officiant was one of the best wedding planning decisions that we made!
Love Susanne!!
Susanne was our officiant and after just one face to face meeting with her she was able to create the most perfect ceremony for my husband and I. We worked mostly through email as we lived a few hours away from her and it worked out very well. I had several people come up to me after the wedding and say that our wedding was the most meaningful and beautiful ceremony they had ever seen.
We used Susanne Wilson through Journeys of the Heart as our officiant, and she was absolutely amazing!  She worked with me as I wanted to write a rough draft of the ceremony first, but wanted her to go through and polish it and make it her own after.  She was so patient and helpful in getting the ceremony to be exactly what I and my husband were hoping for.  The ceremony was beautiful and she was so great throughout the whole process.  I definitely recommend working with Susanne!
Dear Susanne – I am the grandmother of Trisha who you married on July 27. I wanted to thank you for one of the most meaningful weddings I've ever attended. You spoke right from the heart directly to the bride and groom and with such ease and compassion. You also gave credit to their family and friends who supported them. I was very impressed with the ceremony and the way you brought yourself to it – like you knew Trish and Kurt forever!
I can't even begin to explain how perfect Susanne was for us and our ceremony.  She is literally the sweetest person I've ever met.  She was so easy to talk to and really have us the perfect ceremony.  Everyone loved how she would move my husband around so everyone got a good view during the actual ceremony.  We got so many compliments about her!
Hi Susanne- I just want to thank you from the bottom of my heart for the beautiful and perfect job you did with our ceremony. As I'm sure you noticed, it was incredibly emotional for the two of us, as well as our families and many guests. We received compliments from everyone regarding how unique, personal, and beautiful the ceremony was. Everyone loved the ring warming, the handfasting, and even the readings we selected. They all commented on your calming demeanor and poise as well. It has been such a pleasure working with you – we truly would not have been able to do it without you (I've already thanked Linda for introducing us). The day felt like a whirlwind passing by, but there are moments from the ceremony that are frozen forever in my mind.
Loved our officiant and ceremony sooooooo much!! Our guests told us it was the best and most moving ceremony they had ever been to! Personal, loving, touching, unique, and funny because it is a customized one of a kind ceremony all about you and your partner, which is what we loved and which made it so special. ❤
The most beautiful ceremony, and most caring officiant! We are eternally grateful
We had the ultimate pleasure of having Ms. Susanne Wilson of Journeys of the Heart serve as our wedding officiant in April 2021. We can't sing her praises enough! Susanne made us feel cared for each step of the way, taking time to really get to know us and learn about our relationship. When we had to postpone our ceremony (originally set for May 2020), she was so flexible and understanding with rescheduling.
More than anything, though, she truly made our wedding ceremony come to life. She incorporated so many thoughtful elements that really celebrated our partnership, and our loved ones. Each piece of the ceremony, most of which she drafted and reviewed with us (with of course a few surprises left for the day of), was thoughtful, genuine, and really reflected a personal level of care that warmed our hearts. She was also so thoughtful to ensure that all parts of the wedding and her phrasings were as inclusive as possible, so our loved ones of different backgrounds would all feel welcomed and comfortable. Our families and guests really can't stop raving about how beautiful the ceremony was! My mom even said it was the best ceremony she's ever seen in her life, and, although she may be a bit biased, as it was her daughter's marriage, many others echoed a similar sentiment.
When we first were engaged, we didn't have any set ideas about who would officiate, and it was absolutely fate we met Susanne at an event hosted by our venue. My husband and I can't imagine our special day without her now, and we are so truly honored and blessed to have been married by such a kind, detailed, and truly wonderful person!! Thank you so much!!!