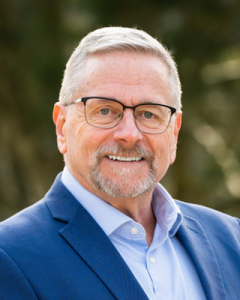 Steve is very much a people person who has felt called to service for as long as he can remember. This has led him on some amazing journeys! After earning a degree in Geography and Latin American studies at Villanova University, he moved to rural Guatemala for a two-year assignment with a non-profit human development organization. Steve learned to raise chickens and drill irrigation wells and helped establish a clinic to provide health care for a village of 1,500 people, as well as perfect his Spanish. These experiences inspired him to obtain a master's degree in Public Health from Temple University. During a long career in pharmaceutical research, he helped to shepherd several life changing medications from the laboratory to the marketplace.
Looking to be of service in the aftermath of September 11, 2001, Steve signed on with his community's volunteer fire company and completed the fire academy training required to become a fully accredited firefighter. He retired from firefighting after 18 years of active service but remains an officer with the fire company.
Steve has been a Unitarian Universalist lay leader for 27 years. He appreciates that his church has no creed, is non-judgmental, and encourages people of all faiths (or no faith at all) to practice their beliefs in whatever manner they find nurturing and inspirational. As a worship associate, Steve creates thought-provoking services that integrate music, readings, and reflections around a cohesive theme such as Values Made Visible in Public Art; Welcoming Immigrants to America; Spiritual Benefits of Recreation and Leisure, and an annual favorite Our Wild and Precious Lives. As a ceremony officiant, he blends this training with an openness to a variety of rituals and themes to support couples in crafting ceremonies that are personal, unique and memorable. Steve is also very comfortable officiating ceremonies in Spanish.
Steve makes the most of his own wild and precious life. He and his husband Mike have been together for over 40 years. Steve's an umpire for the Mid-Atlantic Vintage Base Ball League. The league's 24 teams play baseball by the rules of 1864 using authentic wool uniforms and equipment of the era. And, although wedding commitments now frequently take him off the field on weekends, he finds that his "umpire voice" comes in handy on the rare occasion when a wedding's sound system isn't fully up to the task.
Ever on the lookout for a challenge, he's earned his scuba certification in Mexico, run a marathon in the Soviet Union, and piloted a hang glider in Rio de Janeiro. He is grateful to be able to share his wide-open heart, joyful spirit and genuine enthusiasm with those he serves through Journeys of the Heart.
Oh my goodness!!! We worked with Stephen Workman and he was absolutely the best choice we could have made. He worked with us after we had a mishap with our first officiant and was able to assist us within a month and a half notice. He gave us so many good examples and suggestions and allowed us to completely customize our ceremony. He was an absolute pleasure to work with and I just can't say enough good things! I wish there were more stars to give!!
Hi Steve!
Hope you are doing well. Just a brief message to thank you for the great ceremony. It was a masterpiece, and so was reported by all the guests. The Spanish side, especially my dad, was very excited and enjoyed it a lot. They recognized your effort, time, and your amazing job. Special mention about Mike's grandma, who was absolutely immersed in the experience, and expressed how much she liked it. That I'd say is the best compliment you could get.
Our experience with Journeys of the Heart was amazing from beginning to end. Our wedding officiant was Stephen Workman, and it was a pleasure to work with him. We wanted to have a bilingual ceremony (English and Spanish) and Steve made sure to listen and offer ideas that would fit what we were looking for. He was very professional and attentive and we are so thankful for the work done on our special day.
Wonderful Personal Ceremony
Journeys of the Heart made it easy for us to find an officiant that we connected with, and who we could trust to expertly take care of our ceremony and marriage license! We worked with Stephen Workman, and after meeting with him virtually and providing some background on ourselves and our values, he created a truly heartfelt ceremony that really embodied our relationship.
Steve provided us with opportunity to review and tweak the ceremony transcript, and gave us lots of different recommendations to help us select what type of vows and readings to include. On the day of, he was timely and flexible, and the ceremony had nearly every guest in tears.
We initially had wanted to have a family member officiate our wedding, but we are SO glad that we went with an expert like Stephen and Journeys of the Heart instead.
Steven was our officiant for our big day, and we couldn't have asked for anyone more kind, caring and wonderful! Over the 2.5 years of COVID wedding planning chaos, Steven went above and beyond to really get to know us to ensure our ceremony was authentic and true to who we are. Pre-COVID, he even went out of his way to meet us after a work trip in our hometown in Houston. Not to mention countless emails, calls and zooms over the wedding planning process. We couldn't have asked for a more beautiful and eloquent ceremony. We would highly recommend Steven to anyone in search of an officiant!
Steve was the best!
Journeys of the Heart made the process of finding an officiant and legally marrying super simple. They were by far the most reasonably priced and worked with us through numerous rescheduling issues. Our officiant, Steve, was readily available and always in touch. The wedding ceremony he prepared, including the Love Story, was a beautiful reflection of how we met and perfectly summarized our commitment to each other. Could not give a higher recommendation.
The whole team at Journeys from the Heart was great to work with on our wedding ceremony.  Due to COVID-19 we had to move our date and our original officiant Gabbi was not available.  The team helped us find another officiant within the group, Stephen.  We are so glad we went with Journeys from the Heart for our ceremony which incorporated both Roman Catholic and Jewish traditions.  Between Gabbi and Stephen's combined efforts we had a wonderful ceremony that received numerous compliments from our family and guests.
Perfect Ceremony
Steve was so awesome to work with!  We met him a few months before the wedding to have dinner and discuss how the ceremony would go, he had so many great ideas and worked with us to create the perfect ceremony!  Steve was a genuinely nice person and we are so grateful that he was a part of our special day!  Everyone raved about how sweet the ceremony was – thank you so much Journeys of the Heart!
We felt so fortunate to have Steve officiate our wedding. He performed a meaningful and thoughtful ceremony that was beyond our expectations. Steve worked with us from the very first meeting to truly create the wedding we had hoped for. We appreciated Steve's professionalism and knowledge both in the prep and the ceremony. Russ and I can't thank you enough for being such a wonderful part of our big day!