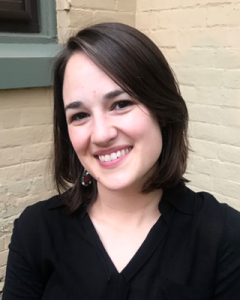 Sara is a true lover of people and their journeys: each unique story; what brings joy and laughter; what keeps us moving forward in difficult times; the little quirks and commonalities that draw us to one another; the rawness of vulnerability; the beauty of connection; and, of course, the strand of love that runs through it all and links us together. As such, the work of joining and celebrating with couples as they commit to each other in marriage comes naturally to her and makes complete sense.
Born in New Jersey, raised in the suburbs of Chicago, and the daughter of two New Yorkers, Sara is an odd cultural mix of East coast and Midwestern vibes. She likes to think that she has homes all around the country and world – in the numerous places she has lived (from Bolivia to Kansas City) and with the many people she loves.
Sara is a skilled listener who connects and relates to people everywhere she goes. Friends – old and new – often comment on her warm and gentle demeanor and describe feeling held and accepted in her presence.
Sara is community-minded and thinks a lot about social equity. She graduated from Creighton University in Omaha, Nebraska, and received her Masters in Social Work from the University of Pennsylvania. Sara spent a most formative time living in intentional community with Jerusalem Farm in Kansas City, MO and has alternated between Social Work and Farming throughout her adult life. While she is now working as a psychotherapist with a local nonprofit, she hopes to someday combine her passions for healing work, social justice, and sustainable agriculture… but for now those seeds are germinating.
Sara grew up Catholic but has practiced spirituality in many different forms throughout her adult life. She appreciates and celebrates the beauty in traditions passed down through family systems, communities, religions, and cultures. Sara holds deep gratitude for the opportunity to enter into couple's lives as their officiant and considers it an enormous privilege to hear their stories and co-create a ceremony that reflects their love for one another.
In the day-to-day, Sara soaks up the joys of vegetarian cooking and eating, belly laughing (thanks partially to her partner's affinity for puns), walking with friends around her West Philly neighborhood, running at the John Heinz Wildlife Refuge, caring for all kinds of plants – both indoors and out, playing mediocre guitar and trying her hand at songwriting.
We hired Sara Francesconi from Journeys of the Heart on short notice after our original officiant fell through.  She made the whole process so easy – she walked us through all of our options, made sure the ceremony was exactly what we wanted, and even talked us through what to do for the marriage license & changing my name.  The ceremony she put together was beautiful, she was prompt, and just a joy to work with. Thank you, Sara!
We can't say enough wonderful things about our officiant Sara from Journeys of the Heart. From the initial consultation, we knew Sara would be an integral part of our wedding day. She is kind, communicative and always made us feel comfortable and at ease. Sara was quick to return emails and make any changes to the multiple drafts she provided of our ceremony—she made sure each small detail was perfect before the big day. We were lucky to have her attend our rehearsal where she made the whole bridal party and our families feel confident in their roles for the ceremony. We are still receiving compliments about how warm and personal our ceremony was—and we couldn't agree more!
We highly recommend Sara!
I wanted to reach out to reiterate how incredible of a job you did on Sunday. We had dozens of our guests tell us that we had the best wedding ceremony they had ever been to and that you had been an extraordinary officiant. Thank you so much for helping us create such a beautiful ceremony and for being so exceptional!
Six months after our wedding and all of our family and friends are still raving about how amazing Sara was. We feel the same, and could not feel luckier to have had Sara officiate our wedding. We knew within the first few minutes of our first zoom session with Sara that she would be perfect for us. It was very important to us to have a personalized ceremony and Sara helped us create just that. She was calm, thoughtful, and sensitive, and that brought out the best in both of us. We would recommend Sara to everyone and anyone! Thank you again for creating a ceremony that our family will be talking about forever!
We can't say enough wonderful things about Sara!
Sara is genuine, warm, present and an incredible writer and speaker. We worked with Sara to plan a ceremony and vows unique to us. She asked us meaningful questions and listened thoughtfully to what we were looking for, then provided resources and examples to guide our selections. We wanted a non-denominational ceremony that was not overly religious, but would nod to our Catholic and Lutheran upbringings. She suggested the perfect readings. Our ceremony was personal and moving thanks to her guidance and words. It meant so much to us that I find myself referencing our ceremony regularly and our wedding was over a year ago. We had guests in person and on Zoom and heard from many people how special our ceremony was. It was truly our favorite part of our wedding day. We can't recommend working with her enough!
For as long as I've known Sara, she just radiates all the good stuff – love, warmth, joy, beauty, authenticity…
So when it was time for me to get married in 2018, it was a no brainer for me to ask Sara to be my officiant. Even my mother who doesn't speak any English and met Sara for the first time at the rehearsal said to me, "Sara has 'I'm a really nice person' written all over her face."
Before the wedding, Sara was prompt and helpful to get all the ducks in a row. She shared a questionnaire for me and my husband to answer, and followed up with a zoom call (we were in different states) to learn our story to craft a thoughtful, personalized wedding ceremony script. She also suggested some options for fine details we didn't think of, and helped us to choose what felt right for us in a way that didn't feel overwhelming.
On the wedding day, Sara did a beautiful job. It was authentic, sweet, and funny at times. After the ceremony, many of our guests complimented Sara and how beautiful the ceremony was. We were so lucky to have her as our officiant, and we absolutely recommend Sara to anyone!