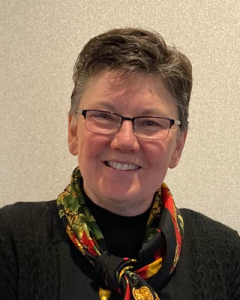 Sandi is originally from Western New York and found her forever home in the Adirondack Mountains of northern NY. She is a graduate of Erie Community College and worked 20 years as a New York State Trooper.
Sandi is a lover of the outdoors and a seeker of adventure. She finds her spirituality in nature and has a deep sense of humor and a laid-back vibe.
Sandi and her spouse Cathy were married by Journeys' officiant Susanne Wilson on the lawn at Journeys' officiant Eve Wenger's house! Sandi believes that helping to create a beautiful ceremony celebrating a couple's love and commitment, just like her own, is an honor and a privilege.
When not officiating ceremonies, Sandi loves to travel, having hiked in the Alps, trekked in Nepal, explored Iceland, thru-hiked the Appalachian Trail, and climbed Mount Fuji. In 2015, Sandi completed Ironman Lake Placid. Sandi is also a master tinkerer and can fix just about anything!
Sandi welcomes diversity in relationships and believes love and communication are the building blocks of any marriage. If you are interested in a wedding that includes the outdoors and adventure, Sandi would be delighted to help!