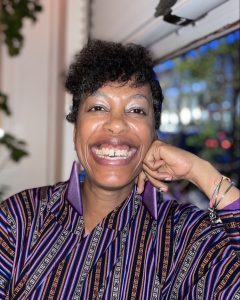 Naila (pronounced Ny-lah) is an unabashed romantic, which makes it no surprise that she tends to fall a little in love with every couple she marries, elevated by the depth and beauty of their connection. She does admit, however, that one of her wedding highlights remains reciting the opening words of the Impressive Clergyman from the film "The Princess Bride" at the request of several brides and grooms, who shared as much of an affinity for the comic fantasy adventure as she does. And so she finds a sense of humor can be as essential to a ceremony as is the awareness of the gift it is to preside over such an occasion.
Raised on the Caribbean islands of St. Lucia, Barbados and Antigua, Naila is an island girl at heart, which comes across in her warm, open and joyful personality. (She has in fact been dubbed with the nickname Juicy Fruit by her best friend, given her exuberant, perennially optimistic approach to life.)
It may seem a stark contrast to her inherent nature that Naila is also a grief coach and death midwife, holding space for people at some of the most challenging and tender passages of life. But it is her attunement to the sorrows and suffering of being human that allow her to embrace joy so fully. Naila is also an ordained interfaith minister and a writer, whose career has included profiling the famous and not-so-famous (from Elizabeth Gilbert and Pink to Brandi Carlile and Amos Lee) and providing greeting card copy for American Greetings (yes, that's a real job!).
From theater to opera to live music, Naila is a great supporter of the arts, which she views as both a transformational agent and creator of community. Additionally, she enjoys reading and writing poetry and is drawn to the works of poets like Mary Oliver, Pablo Neruda, Ross Gay, Ada Limón, Ellen Bass and Rainer Maria Rilke.
When she's not writing or performing weddings, Naila enjoys time spent with family and friends (including those of the four-legged variety), a good meal (preferably concluded with chocolate) and an equally good laugh, dancing, the beach, and travel.
Naila's writing and poetry talents make her a natural at crafting a couple's unique wedding ceremony. But her own favorite part of the wedding day is knowing the couple, by pledging their love and commitment before family and friends, is also inviting that community more deeply into their hearts and their lives. Such mutual giving and receiving acknowledges the support, nurturing and wisdom that are vital to a happy marriage.
Raised in the Catholic tradition, Naila believes the highest spiritual practice is to honor all people by consciously practicing compassion, tolerance, integrity, gratitude and love in her daily life — all, of course, with a hefty helping of joy.
Naila –
We are so overwhelming grateful that we were able to connect with you and have you as the officiant for our wedding. The day was more incredible than we ever imagined, and you played such a pivotal role. We still tear up rewatching the ceremony video, and we have collectively rewatched it 30+ times, and I suspect we will hit 50 by the end of this week! So many of our friends and family members commented on the ceremony and said that it was authentic and beautiful. Words cannot express how truly appreciative we are for crafting and delivering such a perfect story. We feel so fortunate and blessed to have had you as a part of our special day. Any couple will be lucky to have you as their officiant!
All our love,
Dear Naila,
We wanted to say THANK YOU from the bottom of our hearts for the beautiful ceremony you officiated for us last weekend. It was so cool to hear how you weaved our Love Stories together (and a nice surprise!). Everything felt so warm and personal, from start to finish. We received endless compliments from our guests about how much they loved the ceremony- an amazing testament to our collaboration and the incredible job you did officiating!!
Your patience throughout our time together was so appreciated- especially how you talked through every detail in our back-and-forth emails. You are such a calming presence! And we loved seeing the card you left for us as well as the binder with our ceremony script- these are both such sweet mementos!
Thank you again for everything, Naila. We wish you all the best!
Sincerely,
Naila,
I can't believe it's almost been a month since our ceremony! I wanted to thank you and let you know that your words were just as beautiful as the first wedding ten years ago! And thank you for the sweet card, that was so thoughtful.
Thank you for everything and I hope you will be able to celebrate with us on our 25th anniversary!
Love,
We wanted to say thank you so much for being a part of our ceremony. The ceremony was so important to me (Virginia) and it went perfectly, George Michael included. People kept coming up to us all night (and afterward) to say how amazing you were and that they wanted you to read audiobooks. Many said that you created an overwhelming sense of calm, and you really brought out the love between me and Max. It truly was the ceremony of our dreams! Thanks so so much again.
We could not have asked for a more perfect ceremony. We chose Naila from Journey's of the Heart, and she was an absolute treasure. She was a pleasure to work with from start to finish. Very warm and kind and open to hearing our ideas. She understood us and captured our love and our story so eloquently. We received many compliments on how unique and personalized our ceremony. We cannot thank her and Journey's of the Heart enough for this gift that we will cherish for forever!
I'm still so overwhelmed with emotion! Naila, the ceremony was perfect and raw and spoke to us and our union so eloquently. Thank you for marrying us and making our day so special.
We are so happy we reached out to you to be our wedding officiant. The ceremony came off beautifully and exactly as we all envisioned it together. We received many comments and compliments about you and how the ceremony had a little bit of everything: storytelling, spirituality, humor, soul, artistry, and a beautiful setting. You were obviously instrumental in designing and developing the ceremony, but also, your preparation, delivery, and style as officiant was crucial for bringing it all off. There are no words for how much we appreciate your role except to just say thank you for being you. You killed it!
Naila Francis did a beautiful job for me and my husband for our wedding ceremony. We met for coffee beforehand to talk everything out. She was therefore able to create a personalized, thoughtful ceremony. Multiple guests were very impressed by how well she did. I would not hesitate to hire her!
One of the best decisions we made for our wedding was choosing to work with Naila Francis. Naila is truly an incredible human with a beautiful, bright soul… and she crafted the loveliest of words to share for our ceremony. We initially met with Naila at a local coffee shop, where we connected in a way that felt more like we were old friends. She worked with us over the next few months to learn more about our love story, and provide support as we navigated the difficulties of planning a wedding during COVID. We were married on 9/6/20, our original wedding date, and through the constant changes and difficulties, Naila's care and compassion was obvious through her calming presence before the ceremony and her moving words throughout. To this day, we still receive compliments on how unique and beautiful the ceremony was. Even months after our celebration, my husband and I keep in touch with Naila. We simply can not recommend her highly enough!
I can't say enough wonderful things about Journeys of the Heart and our officiant, Naila Francis. My husband and I met with Naila a few months before our wedding and absolutely loved her energy and spirit. We worked with Naila to create a beautiful ceremony for our wedding through a few questionnaires and emails. Naila was very flexible and offered great suggestions. In the end, we created a ceremony that spoke so clearly of our partnership and us as a couple. I could not have been happier. So many people complimented us on our lovely ceremony during our wedding – they found it to be very thoughtful, moving, and very personal. Guests said that they really felt like they knew us as a couple and our whole story, which is exactly what I wanted. Further, we got so many compliments about Naila's lovely, calming voice and her entire demeanor. I am so glad we had the opportunity to work with her and I would recommend her to any couple!
Dear Naila –
You did an amazing job with our ceremony!  It truly was unique as if you've known us our entire life!  We received countless compliments about our ceremony and how it brought tears to everyone's eyes and we have you to thank for that!!  Attached is a photo but when I receive the professional shots I will send you all that include you!  Thanks again for making our day so special!
Hi Naila,
We wanted to tell you again how much EVERYONE has been raving about our ceremony.  Grown men say they have never cried and it was so moving to them.  Funny, short, non religious and touching…fit us and our day to a T.  Thank you.
We chose this vendor since they are a group, and if anything were to happen with our officiant, there would be automatic back up. We chose Naila Francis, she exudes warmth and made our ceremony so personal. We got so many compliments on what an amazing job she did, which was unexpected considering we went with a non denominational officiant, which was unexpected. She did a beautiful job and i am so happy with our decision
Naila –
I'd like to thank you again for the AMAZING work you did with our ceremony; our families haven't stopped raving about how wonderful the entire ceremony was start to finish! Kev and I couldn't have been happier with how your words represented our relationship – our past and future growth together, the big and little reasons we're so crazy about each other and our hopes and dreams for our life together. It was truly perfect.
Wishing You the Best of Luck and Love,
Our officiant was Naila Francis and she did a fantastic job officiating our wedding on April 7th! We received so many compliments on the personalized ceremony and Naila's warm touch! She did the perfect job blending our faiths and making the ceremony about us! We HIGHLY recommend Naila for anyone looking for a unique, personalized ceremony that people will remember!
Dearest Naila,
Wow! You made our wedding ceremony exactly what we'd hoped it would be. It was just perfect. Everyone at the wedding has been raving about how lovely and warm you are, and how personal and interesting our ceremony was. In fact, it was hands down my favorite part of this entire experience. From the start, Steve and I knew that we wanted our ceremony to matter most, and once we met you, we were sure you'd be the person to make it just right. All of the suggestions you made, and the meaningful material you provided, were really in line with who we are as a couple and as individuals. Communicating with you throughout the process was easy and delightful. You went above and beyond your call of duty, and we will never forget the wonderful gift you've given us. I've copied Journeys of the Heart on this message, so that they would know just how pleased we were with you, and how lucky they are to have you on board.
Thank you from the bottom of our happy hearts.
Dear Naila,
We would like to thank you for the wonderful ceremony on Sunday. We were both moved by its simplicity and beauty, which was enhanced by the romantic setting. Our families and friends were all enthusiastic about the ceremony which was felt to be unique, probably because it was a bit unconventional. The flower sharing ritual, with its involvement of the community in the celebration rendered the ceremony intimate and touching. Both of us and our loved ones appreciated your way of officiating as well as your calm, personable and clear voice. …And you were right, the audience thought that you knew us for years! It was truly the wedding I had dreamed of! Thank you again and all the best.
From Naila:
What I really appreciate about this note is that when I met the couple for our consultation, the bride was concerned about my ability to make the ceremony seem personal after sitting down with them for only an hour and not meeting again until the wedding.
I think this so speaks to the heart of what we do. It is never "business as usual" or a routine when we meet these couples but a genuine interest in who they are and the love they share and how we can best help them express that on their wedding day!
My husband and I come from different faith backgrounds, so we wanted to find an officiant who could make our ceremony non-religious but still personal and meaningful. Previewing the officiants availabe, I immediately connected with Naila's background as a writer, and we couldn't have been happier with our choice! Naila was a warm, personable guide as we thought through each step of our ceremony. She provided us with helpful resources that helped us hone in on what we wanted to include/exclude. Planning weddings can be stressful, as anyone can tell you. But, throughout the process, Naila was the calm, collected presence we needed to make sure everything was going to be ok. After some collaboration, our ceremony ended up being exactly what we wanted. Everyone at the wedding loved it, which is sometimes not the most memorable part of a wedding! If I were to do it all over again, I would most certainly go with Naila again! Thank you for helping us put together the most beautiful ceremony we could have imagined!