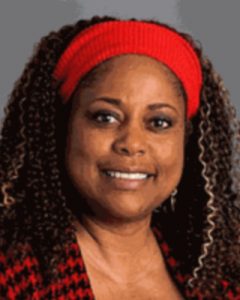 Renee Ford-Conway has a warm, inviting, joyful and loving presence.She has a vibrant personality yet, at the same time, brings a calm sense of peace to all she does.
Renee's love of learning and experiencing life to the fullest led her to Journeys of the Heart. She believes that every event of importance can be marked by meaningful ceremony which speaks to the essence of participants and guests.
An avid naturalist and educator, Renee studies the art of holistic wellness, seeking always to live a balanced lifestyle. Her interest in keeping body and mind in harmony is ever at her core. Thus, she starts each day in a period of quiet meditation.
Renee is an educator of adults and middle school students to whom she teaches technology and media arts. She is an enthusiastic and creative motivator. Renee feels like she has the best teaching job at her school, because students love to come to film class!
Renee is a complex, caring, fun and creative individual as well as a compassionate listener and consummate strategist. She holds professional degrees and certifications in education, psychology, training, dance and technology. While carrying out her professional roles, Renee manages to maintain a harmonious long-time marriage and enjoys her role as a supportive mother to her young adult children.
Renee has Quaker and Christian backgrounds which instilled within her the value of volunteering. She was instrumental in a special Keep Art Alive initiative at the Abington Art Center and is on the Board of Directors of the Hiway Theatre in Jenkintown. Renee is also a supporter of the Girl Scouts of the USA as well as a curriculum trainer for infant and toddler programs statewide. In addition, she has long been a member and advocate of the Loving Day Campaign, which educates Americans about love, race and the law and supports interracial marriages and families such as her own.
In her own spiritual practice, her household at the center of a wide range of family and friends who gather each Sunday morning; a hearty breakfast is served which, combined with rich spiritual sharing, provides strength for the week ahead.
Renee approaches ceremonies with the same degree of warmth, vibrancy and professionalism as her other roles. Her various headdresses are not just fashion statements but testaments to her own personal, spiritual and professional life.
Couples, individuals or families who work with Renee appreciate her peaceful demeanor, easy laughter and sense of humor in addition to her abundant wisdom and common sense
Our officiant was amazing. We used Renee Ford-Conway and from the first meeting she was so outgoing and comforting we knew she was the one for us. She was very organized and attentive to all the little details and in the end our ceremony wouldn't have been as amazing if anyone else was standing in her place.