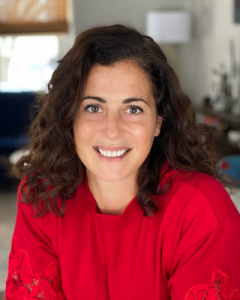 Maura loves LOVE. She loves a good wedding, too! She believes there is nothing better than gathering the people you cherish the most and asking them to be witness to your love with a beautiful ceremony – and then eat, drink, and dance together. What a joy!
Growing up in the Catholic tradition, Maura recalls being in awe of the magic and mystery of different ceremonies, feast days, and the essence of sacredness they invoked. The traditions and rituals in her own family around life, death, holidays, and other ancestral milestones felt treasured and highly important. As she grew older and discovered her love of travel, Maura began to explore different traditions and cultures, finding a spiritual practice that expanded her consciousness and rang true to her soul. This alignment to Truth and Love, as Maura calls it, is deeply individual while also deeply universal.
Maura is a yoga & meditation teacher in the Philadelphia area specializing in trauma-informed practices, community engagement and mind-body integration. She co-founded Yoga Home, a studio based in Conshohocken, in 2007 and continues to work with community partners on local, national, and international scale to support meaningful and sustainable efforts around inclusivity, social justice, international development, education and more. She is a catalyst for change encouraging reflection, responsibility, and action in our individual lives and in our deeper connection to each other and the world.
Maura loves to cook – you'll often find her in her kitchen whipping up a new recipe – she has a knack for comfort vegetarian food, whether it's tacos or Italian! She also loves being outdoors, whether in her garden, hiking in the Wissahickon or traveling to a new destination. She's creative, funny, down-to-earth, and grounded. She cherishes the 'aunt life', time with her three sisters and their families and spending more quality time with her parents as they age.
When working with couples, Maura asks great questions, is a compassionate and skilled listener, and is deeply intuitive. She is equal parts playful and serious and brings those elements (and more!) into her work. She finds it a great privilege to be a part of couples' ceremonies – helping them to create something beautiful and be witness to their love and commitment to one another. Maura is delighted and grateful to be a part of Journeys of the Heart.