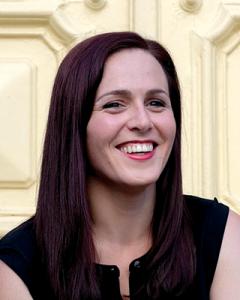 Maura is a Philadelphia native, and grew up surrounded by many communities that embodied boundless love, compassion, acceptance, as well as a thirst for social justice. Maura comes from a family of nurses, social workers, teachers, and people who encouraged sharing your gifts with a world in need. Studying Sociology and Social Work inspired her to listen to people's stories, promote health and healing, and believe deeply in the importance of building connections and community. She is grateful to have graduated from Merion Mercy Academy, St. Joseph's University and Temple University Graduate School of Social Work.
Maura has been moved by many opportunities to accompany others, especially through the Casa de la Solidaridad Program in El Salvador and the Jesuit Volunteer Corps in Harlem, NY. These experiences led to her current work as a licensed clinical social worker and therapist. 
Accompanying people as they navigate life's changes and challenges gives her a deep sense of gratitude and awe at the resilience of the human spirit. She enjoys finding and celebrating the unique gifts and strengths in every person she meets, and helping them make space for whatever brings them healing, authenticity and joy in life. 
Maura started this work as a wedding ceremony vocalist. She believes that music brings people together; it can honor our history and traditions, open our hearts, and help us to celebrate the joy and hope we find in human relationships. Maura approaches her work as an officiant with this same philosophy. Weddings are not only the joining of a couple, but of two families and communities becoming one for the journey. Her background allows her to meet a couple where they are, and create a ceremony that celebrates their unique relationship and their "village." 
Maura has been honored to officiate with Journeys of the Heart since 2017. She is conversational in Spanish as her second language and is happy to officiate for bilingual ceremonies. 
Maura lives with her husband and daughter just outside Philly. She loves singing around the house, reading, listening to podcasts and NPR, and a good cup of tea with friends.
Journeys of the Heart was a great vendor! We ultimately went with Maura Bernt who was a lovely officiant and made the process from organizing our ceremony to the day of seamless. She helped us through every step from outlining the procession to the marriage license. We got so many compliments from our guests regarding what an amazing job she did with our ceremony! Would highly highly recommend.
We can't say enough about our lovely wedding officiant, Maura Bernt. From the moment we met her online, to each email interaction and finally to our ceremony, Maura was kind, compassionate and very easy to work with. She warmly told our story, welcomed our family and calmed our nerves. I contacted her several times with tweaks and suggestions and she took every one of them to heart. Maura is a delight. Had she not been our officiant, we would've been honored to have her as a guest.
Maura did such a wonderful job with the ceremony! We were able to have exactly the type of ceremony we wanted and we were so happy with the way it turned out. Maura was so helpful in the process (even after we have tied the knot)! I would highly recommend her to anyone looking for an officiant.
Personalized and Lovely
Maura from Journeys of the Heart was such a pleasure to work with! After rescheduling our wedding a few times and deciding on a small ceremony, we needed someone pretty last minute and I was so nervous we wouldn't find someone.  I did not need to worry! Maura was able to meet with us and listened to exactly what we wanted and created a personalized and meaningful ceremony for us.  She was so warm and personable.  It was so easy to work with her and everyone commented that the ceremony was lovely.  Thank you!!
Wonderful experience!
Maura was amazing! From our first virtual meeting to the flawless ceremony… everything was perfect. Maura has a very sweet and kind way about her that made us feel at ease planning our wedding ceremony. Multiple guests commented on how beautiful our ceremony was and that they all cried. Maura was organized, professional and helpful throughout the whole process. We are so happy with our ceremony ❤️
Maura was excellent! One of our best decisions for our wedding
I wasn't sure if hiring an officiant from a site was a good idea but I am so glad I chose Journeys of the Heart. The site gives you ample information about each officiant that helps choose someone special to you. I was able to talk to Maura before deciding and she included us and encouraged us to make our ceremony our own. Maura was well prepared and the ceremony was beautiful from beginning to end! I'd highly recommend her and don't be afraid of adding parts to your ceremony to make it personal and yours!
Maura Bernt with Journeys of the Heart Delivered!
My wife Lynne and I hired Maura Bernt of Journeys of the Heart to officiate our wedding, and she was fantastic! We substantially downsized our plans due to Covid, so it was only our immediate families on my parents' property in West Grove, PA. Maura asked us to fill out a survey in the weeks leading up to our wedding, which she used to write a touching and intimate "love story" for the ceremony. Maura was prepared, showed up on time, respectful of Covid protocols, flexible with changing plans (we had to move the ceremony from the back yard to the front porch because of rain), and set the perfect tone. She also did a great job handling the paperwork to make our marriage official in the eyes of the state. We were very pleased with Maura's work!
Sometime's it's hard when you ask a third party to talk about you and your significant other's love story. Journey's of the Heart provided just the right person to help with this, adding a level of ease and comfortableness during the process of sharing it. My wife and I worked specifically with Maura, giving her detail and insight into our love for one another–giving her the opportunity to see who we are as a couple in order to develop and share who we are, and what we mean to each other in front of our friends and family. She was fantastic throughout the process. Quick to ask questions, and quick to respond with answers if we had any of our own. Her words were beautiful and really spoke to us, and is something that we will remember as my wife and I continue to walk with each other, holding on to that promise we made to each other nearly one year ago. I would definitely recommend Journeys of the Heart, as well as Maura. It's a great chance to share your story, in a delicately crafted way.
Maura and Journeys of the Heart made my wedding the most special day of my life.
Having a small wedding, it was super important to me to make it as personal as possible. After selecting Maura she was very responsive and gave great suggestions on how I could involve my children. Our ideal ceremony would have taken place in a church, but due to the holiday that was not possible. Maura made sure we included religious readings and we did not feel like we missed anything. I met Maura in person the day of my wedding and her warm, inviting smile made my husband and I feel as if we knew her forever and like she was an actual guest happy to be a part of our special day. I highly recommend Journeys of the Heart. Easy, Professional, and truly heartfelt.
Maura was kind and gave us lots of personal attention. She was organized, and friendly, and always prompt. They have lots of helpful suggestions for how to write your own vows, choose readings, etc. She did many revisions to make sure she got every detail of our story correct and we are so grateful for her help in celebrating our special day!
Maura was our officiant and she was absolutely wonderful!!  She met with us and totally created a ceremony catered to our unique bilingual needs, which was very important to my husband and I.  We really wanted a simple, sweet, bilingual ceremony to reflect our personalities and she delivered with perfection!!  Highly recommend her and Journeys of the Heart!
Such a great company!
We absolutely LOVED having Maura as our officiant for our wedding. She was so easy to work with, genuine and excellent at her job. We have already recommended Maura for my sister's wedding and will continue to do so in the future!
Maura was the perfect choice for us. She gave us suggestions where we didn't know what to do, and listened to the things we knew we wanted (or didn't want). She did a great job on our "love story". She made sure that she moved aside for our vows and our first kiss, telling us that she knows the moment is about us, and so she didn't want to be in the pictures of those big moments. We didn't explicitly ask her to do that, but we are very grateful she did. Would happily recommend her for anyone looking for a non-denominational officiant.
Flexibility, patience, joy, and professionalism
We had a last-minute, pandemic-necessitated, outdoor, bilingual micro-wedding in September, at a friend's house in Bucks County.  Maura Bernt was our officiant and was honestly a joy to work with. She was a superb guide for us – we had no idea what we were doing!  And such a calming and kind presence throughout the planning process and the ceremony itself.  Our guests were amazed at how "us" the ceremony was, how personal and touching Maura made it, and one person remarked that they'd like Maura to basically follow her around and officiate her whole life 🙂  She has, I suspect, some sort of actual superpowers involving patience and compassion – she wrangled wayward wedding party members, calmed an anxious bride, crafted a beautiful ceremony in two languages, and somehow managed to deliver it in such a way that both my husband and I felt grounded and present the whole time.
We HIGHLY Recommend Maura Bern
We got married on May 6th, 2023 at Water Works in Philadelphia. I'm Jewish and my now husband is Catholic. Neither of us are particularly religious, but we wanted to honor traditions from both of our religions and upbringings. We were in search of a nondenominational wedding officiant, but we didn't want to ask a family or friend. We wanted a professional who does wedding ceremonies often and is comfortable leading one, especially one for an interfaith couple. Cescaphe put us in touch with Journeys of the Heart and it was so simple from the very first email exchange. We got to read many bios of wedding officiants who work for the company and we settled on Maura Bernt. We had an initial Zoom call with Maura to see if it would be a good fit, which it was! Maura was excellent from that first call. She listened to us as we described exactly what we wanted to do and she put together the most perfect ceremony for us with many rounds of edits and changes. She sent us readings from both the old and new testament to choose from, incorporated personal details from our "love story" form that we filled out for her, and honored loved ones who couldn't be present. She made deciding on our vows super easy and took any and all pressure off of us leading up to and during the ceremony. We didn't have to remember to do anything as she quietly cued us when we had to repeat lines, etc. We got many compliments for guests regarding how much they loved our ceremony. Maura allowed us to make some last minute adjustments, was always very responsive in our communications, and she was flexible throughout the process. She even read our ketubah in front of our family and bridal party prior to the ceremony, which is something a rabbi typically does. We really can't say enough about Maura and our experience with Journeys of the Heart!