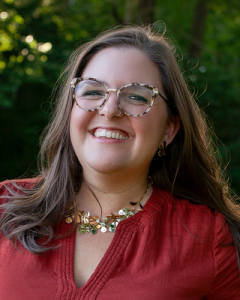 Mary is a lover of the weird, wild, and wonderful. She finds enormous joy in the things that make other people light up with excitement and talk nonstop for hours: their favorite fandom, their niche hobby, or the love of their lives.
As a Humanist with a degree in Philosophy and Religious Studies, Mary has a keen appreciation for ritual and ceremony and the creation or discovery of meaning. She believes that all people deserve meaningful celebrations of the important moments of their lives and is eager to help couples find what will make their ceremony perfect for them, whether that's a peaceful ceremony filled with connection and depth or more festive from start to finish wearing Jedi or Harry Potter robes. Mary loves working alongside couples to craft a celebration of love and commitment that uniquely reflects their passions, principles, and personalities.
A queer woman, Mary has worked as a community organizer for over half her life, fighting for marriage equality in Washington state, organizing against bear baiting in Maine, and managing the campaign of a domestic violence survivor turned state house candidate in Pennsylvania. She serves on the board of several non-profits dedicated to justice and is a believer in people power. After a difficult pregnancy and the birth of her son, Mary trained to be a doula, supporting birthing and adoptive families across the region and training other doulas to serve non-traditional families and birthing folks.
Continuing to serve families as a ceremony officiant is a natural extension of Mary's enthusiasm for holding space and seeing love deepen.