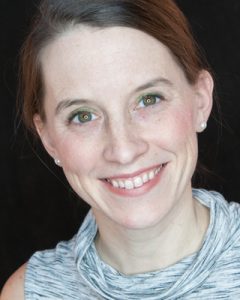 Kelly's ecumenical background and appreciation for the wisdom in a variety of spiritual paths makes creating personalized wedding ceremonies a true joy for her. She understands that individual spiritual journeys are complex and unique, and believes that connection with a traditional faith community should not be a requirement for couples, families and loved ones to have meaningful, memorable rituals to mark life's most important passages
Kelly respects and honors committed relationship as a spiritual vocation which is given strength and support through the celebration day. She is gifted at making others comfortable and finding the right words to capture the emotions present, and feels very blessed to have work that makes good use of these gifts. Often times after her ceremonies, guests of the couple will remark that it seems Kelly must have known the couple for years to have reflected them so well in her words.
Kelly is a graduate of the University of Notre Dame, where she studied Anthropology on campus and abroad in Mexico. She holds an MA in Religion from Lancaster Theological Seminary. She speaks Spanish very well and is delighted to use it in ceremonies.
Kelly loves meeting people just where they are on their own paths and aims to be grateful for all life's opportunities and challenges. She is adaptable, compassionate and delights in the unexpected. While she appreciates the wisdom in a variety of spiritual paths, her own practices include her faith community, prayer, yoga, and lifelong learning.
Kelly is also a very active community volunteer and leader, a mother of young children, and a professional hospital and hospice chaplain. She is a lover of coffee, wine, books, Jeopardy and historical documentaries and is a proud Fighting Irish fan for life. Kelly enjoys the simple pleasures of family life and raising her own family in the same neighborhood where she grew up.
She is ever thankful that whenever she is officiating a wedding, ministering to those in crisis, offering a baby blessing, or helping people say goodbye to a loved one – she gets to be present during the most significant moments of life.
Beautiful Ceremony and Great Experience!
Kelly Fuddy from Journeys of the Heart is an absolutely incredible officiant and I would recommend her to anyone!! She walked us through the process of designing our ceremony (and thank goodness, because we were clueless!), thinking of everything from traditional vs. modern language, religious vs. secular passages, personal vs. prewritten vows. We filled in her "Love Story" interview, and she wrote a beautifully personalized ceremony for us. It was a tear-jerker – we are continuing to receive compliments about how inspiring and lovely it was. And best of all, she's a great person to work with – go with the flow, positive, calm under pressure. Working with Kelly and Journeys of the Heart was a great experience from the initial email to today! Thank you Kelly!!
Hi Kelly,
I wanted to let you know how appreciative we are of the amazing wedding ceremony you conducted. It was thoughtful, meaningful and so very well delivered.
We had countless guests comment on the service and your message. Thank you so much for taking the time to get to know Heather and Ryan and providing such a beautiful ceremony.
You're the best. We will certainly direct other couples your way when seeking a marriage officiant.
Dear Kelly,
You gave my new husband and me, along with our family, friends, and guests, a more memorable, personal, and special ceremony than I even imagined. You provided, not only Mike and me, but each of our guests with an experience they will never forget. You gave us a ceremony that brought people to tears of joy, that was simply elegant, emotional, and genuinely from the heart… you made my own wedding vision a reality. We feel blessed to have met you and will never forget you.
Kellly Fuddy was our officiant in Lancaster, PA. she did a wonderful job of personalizing our wedding and was even able to perform the ceremony in two languages which was wonderful! It's wonderful to see that there is a company out there that focuses on making your wedding a special one and doesn't judge based on extreme religious beliefs.