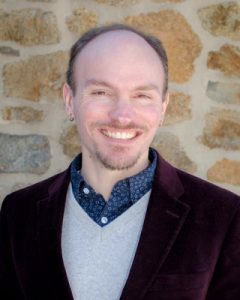 Kipp believes that a wedding ought to be authentic, beautiful, and playful. He discovered this value in the midst of his own wedding, and his partner still won't let him live it down. The two of them had written vows together and intended to recite them from memory. Kipp got caught up in the spirit of the moment and…improvised. His partner got caught up in the spirit of Kipp's improvisation and…forgot what she was supposed to say. Thanks to a quick-thinking officiant (and a backup script), everybody laughed and the rest of the ceremony went off without a hitch. Kipp promises to bring a similar lighthearted joyfulness (and kind, calming presence) to your ceremony—but without the tongue-tangling surprise.
Kipp grew up in the Washington, D.C. area, and has lived in Philadelphia since 1996. He has held a range of jobs that have one commonality: his passion for working with people in ways that improve their lives and connect them to the wider world. At present, he is both an ordained minister and a professor of religion. He has a gift for speaking that weds humor and empathy in powerful yet intimate ways. This has been especially meaningful to people in the context of wedding ceremonies and memorial celebrations. Some of the highest praise he has ever received as an officiant was after he presided for his grandfather's funeral, when his parents asked that he write and deliver their own eulogies.
When Kipp is not busy teaching or being pastoral, he likes to read literature, poetry, history, or nerdy religion scholarship; to immerse himself in some John Coltrane; or to watch a good documentary. You might see him running around Philadelphia—especially if he's training for the Broad Street Run or the Philadelphia Marathon. He is a homebrewer who finds that his beer always tastes best when it's shared with friends. And though it's been a long while since he's had the opportunity to indulge himself, he's got a minor reputation as a karaoke fiend who can almost credibly rock Prince's 'Kiss.'
One of Kipp's highest principles is the conviction that reverence and laughter do not cancel each other out. And that life is meant to be celebrated.
A Memorable Ceremony
My husband and I had the pleasure to work with Kipp Gilmore-Clough through Journeys of the heart. Kipp really tailored our ceremony to really reflect our relationship and background. Our ceremony and vows were one of my favorite memories of the day. So many guests commented as well and said it was one of the best ceremonies they've experienced. And many guests assumed Kipp was someone we had known for a long time since he really seemed to know us. Thank you Kipp and Journeys of the heart for making our day meaningful and special!
We found Journeys of the Heart though our venue as they are a preferred vendor and we knew we wanted a non-religious ceremony. We hired Kipp Gilmore-Clough as our officiant and it was one of the best decisions that we made for our wedding. Kipp was super friendly and easy to work with. The ceremony that he conducted was FANTASTIC!!! All of our wedding guests kept asking how we found Kipp as our officiant! They thought that the ceremony fit us perfectly as a couple and we agree that it did!
Kipp is the best!!!
Kipp Gilmore-Clough is so amazing to work with. Our ceremony was perfect it was light and fun while also acknowledging the gravity of the moment. We have received compliments from our guests for Kipp and our ceremony.
This organization was all around lovely to work with. Kipp was our officiant for both our intimate backyard wedding in 2020, and our large public affair in 2021. He was responsive and fun to work and communicate with. We continue to receive compliments about what a wonderful job he did honoring our respective religions, and making everybody feel welcomed. Highly recommend!!!
Hi Kipp!!
Thank you so much for officiating our wedding.  You were amazing and I think literally every guest we talked to said the ceremony was their favorite part.  They laughed, they cried, and felt all the emotions in a great way!  We cannot thank you enough!
Kipp was our officiant, and everyone loved him. He really got to know us in the few times we spoke and put together an emotional and meaningful ceremony while also keeping everyone entertained. He threw some jokes in there and all of the guests thought he was amazing. For an interfaith wedding he captured both traditions very well.
Kipp, Thank you so much for your part in making Friday the best day of our lives. Your ceremony was perfect. We're still getting comments from guests about how great the ceremony was. Your writing and telling of our love story, your honoring of our families, and your excellent comedic delivery just made everything come together perfectly. Thank you again for all your help.
Kipp,
Thank you SO much! We received so many compliments on our ceremony and many people asked where we found you. It was a beautiful ceremony, thank you again.
Kipp was outstanding! He was flexible on the ceremony script /style and his delivery was great!
Kipp,
Thank you so much for officiating a wonderful ceremony! It was everything I had envisioned (minus the blazing sun in my eyes and the DJ messing up our recessional song)! You did an outstanding job of making the ceremony memorable and personal, and we couldn't be happier with it!!! You are a true gem, Kipp! God bless and take care!
Thank you so very much.  I can't tell you how many people came up to me at the wedding and complimented you.  Seriously – I cannot count the number of people who said it.  People thought you were great and genuinely funny, and you were so natural that people actually thought we knew you beforehand.  A few people even asked for your info.  We are so grateful for the beautiful ceremony you created for us.  Beyond that, you were so easy to work with and organized.  What a great honor it must be to be a part of couple's special moments.
Hi Diane,
Both John and I want to let you know how amazing Kipp is. When we met him, we knew he was the one to perform our ceremony. He was such a pleasure to work with. On the day of our wedding, he made the ceremony so sweet and memorable and even calmed my nerves. He added the right combination of humor, religion and heart-felt notes. Our guests were so impressed and we received so many compliments. He is so awesome and we would highly recommend him to anyone who needs a wedding officiant who could add a special flair to their ceremony. Thanks so much and all the best.
Dear Kipp,
We cannot thank you enough for everything you did in honor of our wedding. Please forgive our belated display of gratitude. We have been swept up in enjoying married life to the fullest. As we continue to celebrate our 1st year of marriage, we will never forget the amazing time had that night, that was made even more special by your presence. Our wedding would not have been the same without you and the lasting memories you services helped to create.
With sincere love and heartfelt thanks,
Good morning Diane,
I wanted to let you know how thrilled we were with Kipp officiating our wedding on August 20th! He was so easy and pleasant to work with in the weeks leading up to the big day, and he did an amazing job! Everything he said was so meaningful and deep, yet had a lighthearted feel that put everyone at ease. We have had multiple people tell us how much they loved our officiant and how beautiful our ceremony was. Kipp is a great guy and is excellent at what he does and I just wanted to let Journeys of the Heart know that. Thanks so much!
We chose Kipp as our officiant…and he was perfect! The ceremony was absolutely beautiful. Every single person in the audience cried, including the bride and groom. Kipp took some time before the ceremony to get to know us a bit and allowed us to customize the ceremony anyway we wanted. He provided a list of oft-used readings, prayers, vows, blessings, etc. as guidance, but let us choose what we wanted to include and exclude (from these lists or from any other sources). The creme de la creme of the ceremony, though, was the beautiful homily Kipp wrote about our relationship, which he managed to capture perfectly despite only having spoke to us a few times. The whole ceremony was heartfelt, sweet, at times funny, and spiritual without being religious. After the ceremony he also mailed our marriage certificate in for us & provided us with a copy of the ceremony language in a binder, so we will always be able to keep and remember the words he used to marry us. Seriously, I couldn't recommend Kipp or Journey's of the Heart enough — 10 stars!!!
We used Kipp Gilmore-Clough of Journeys of the Heart for our wedding at Colonial Dames in August 2017. Kipp did such a fantastic job, we're so glad we found him. After initially reaching out, we met with him once for about an hour and after we confirmed everything, he sent us a detailed questionnaire about our relationship which we took time to fill out carefully. Kipp then turned what we wrote into a beautiful, personalized ceremony. He is such a great writer! It represented us and our relationship so well, while also being lighthearted at times, serious when appropriate and all the while integrating religion as we requested. He provided us with many options for vows, prayers and blessings that we had the opportunity to look through and select the ones that spoke to us. He invited us to edit what he wrote and provide a lot of input and tweaks. In addition to this, he was the most communicative "vendor" we worked with for our wedding– he followed up and checked in frequently. All the while we felt very confident about working with him. On the day of the wedding, his pacing and delivery of the ceremony was perfect– peaceful and energetic all at once. We received many compliments from our guests about how much they enjoyed it and how beautiful it was– even from my uncle who is a notoriously tough critic. In addition to recommending Kipp wholeheartedly, we are so thankful to him for making our special day so beautiful and reflective of us.
Kipp Gilmore-Clough was AMAZING!
Highly recommend Kipp Gilmore-Clough from Journeys of the heart.
I'm pretty sure right after my ceremony all my guests already stared spreading the word about how ABSOLUTELY AMAZING Kipp Gilmore-Clough was. Talk about pleasing a crowd!
So let me be honest, I wasn't sure what we were supposed to be looking for in an officiant. We met Kipp once in person and walking out from our meeting we obviously liked him but just thought "it's a quick ceremony – all you really need is someone to speak to your guests and marry you – easy enough." We've been to weddings before (and again being honest) I don't remember their officiant because they weren't memorable – but that's what sets Kipp apart from all officiants.
Kipp was the most memorable and the most amazing human to speak on our behalf. We were blown away with him. Kipp interacted with our guests, he had them laughing and crying and I have pictures to prove it! I received pictures back from our photographer and all pictures taking during the ceremony of our guests showed such emotion- it was beautiful. My favorite candid picture is of our parents – during the ceremony they had this genuine laugh … it's hard to explain, but that is a memory I love and I love that Kipp brought that out of them when speaking of our love story.
It's insane thinking that we booked Kipp because we needed an officiant, but in reality we were truly blessed because in that moment we realized he changed our view on what an officiant is supposed to do – and that was to be memorable. Thank you Kipp.
I still haven't gotten over how amazing my ceremony was and neither have my guests. I had several people ask me for his information because they want to recommend him to other couples or keep his name for when they get married. Yes, Kipp was THAT GOOD! He truly has a gift.