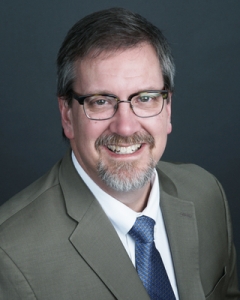 Jim's devotion to his family keeps him grounded and helps him to appreciate the opportunity to be with others as they prepare to celebrate life's most significant moments. Born in Indiana, Jim moved to Newark, NJ, in the eighties to serve for two years as a Jesuit Volunteer. Earning a whopping $85/month while teaching reading/language arts and coaching basketball at an alternative junior high school in the city, Jim fell in love with teaching – and the Jesuit Volunteer Corps. He moved to Philadelphia to work with the east coast branch of JVC, then got back into teaching after some graduate work at Temple and Arcadia (before its name change). He met his wife in the early nineties while teaching and working as the assistant director of a school for students with emotional issues. Since 2000, Jim has taught history and English at a Quaker school in the Philadelphia area where he also serves as chair of the history department. Each of these various places has continued to reaffirm Jim's sense of the particular joy and challenge of teaching as well as the gift and importance of being present to others in a unique way.
Jim is funny and possesses a quick and playful sense of humor, qualities which are most helpful, not just in his family life, but his teaching profession and in his work with couples and families through Journeys of the Heart. He is also a talented juggler and not just of work and family but of bowling pins, knives, eggs and fire (okay, not fire but maybe someday). His devotion to his wife and three daughters makes him uniquely attuned to the importance of honoring the gifts and talents of women and to working for equality to all people. Jim credits his lifelong Catholic heritage with instilling within him a love of ritual and a commitment to social justice. Jim believes that he can best honor his own marriage by believing that all citizens deserve the rights, responsibilities and joys that it brings.
Besides hanging out with his family, Jim, a Great Books major in college, also loves to read an eclectic mix of non-fiction and fiction from Thucydides (his dweeby side) to Dostoyevsky (who doesn't love Brothers Karamazov?) to George Saunders (hilarious and twisted). He loves playing basketball and is forever grateful to his wife for allowing his Monday night game to be held sacred on the family calendar. He also enjoys running anywhere outside and green (treadmills put him in a mind-numbing stupor which is all too easy for him to do without their help) and going snorkeling in the beautiful blue-green waters of the Caribbean. As to the latter, despite the family's plans and schemes, those trips don't happen nearly as often as they would wish.
To view Jim officating Casey + Matthew's wedding video by Once Like A Spark:
Jim, 
From the bottom of our hearts we thank you! Thank you for your service and your dedication with helping us make our words align with our actions in taking this next step. You were incredible and both of our families said that our vows were so special. We had a few more tears than we expected! Overall, the best experience of our lives. We will definitely keep in touch.
Thank you so much again.
We had a wonderful experience with Journeys of the Heart for our wedding day. After reaching out, their team quickly responded to our inquiry and the communication was always prompt and friendly. We ultimately chose Jim Rosengarten as our officiant and it could not have been a better decision. Jim really wanted to get to know us and our story before our wedding day, and we felt immediately confident about our decision. On our day, having Jim there to preside over the ceremony put us at ease and kept us calm during what would typically be a nerve-wracking time. We are so happy with our decision and highly recommend Jim and the entire Journeys of the Heart team!!
We had the pleasure of working with Jim R. from Journey's of the Heart, and we are so glad he was our officiant. Jim was thoughtful, organized, and made the process as easy as possible – which is all you can ask for when planning (and re-planning) your big day. Jim captured our love story perfectly; with a dash of humor that made our ceremony truly feel unique and personalized. Our friends and family asked how we knew him and couldn't believe he wasn't someone we personally knew – and that's what you get with Jim; someone who makes you feel comfortable, who is genuine, and feels like family.
Thank you Jim!
Like so many couples, my husband and I scheduled and rescheduled our wedding several times due to COVID. During this stressful time is was such a relief to have Jim as our officiant. Jim made us feel at ease from the beginning of our planning process. He listened closely to what we imagined for our ceremony and offered wonderful suggestions about how to structure the ceremony and what elements to include. When my husband and I decided to cancel our large wedding and instead have a tiny one, Jim worked with us to re-envision the ceremony for a more intimate setting. We were so touched with the results and could not have imagined a more meaningful day.
We are so happy that we selected Jim Rosengarten to be our officiant through Journeys of the Heart! We got married on 9/4/21, and our guests were all amazed at how personal our ceremony was and everyone thought that Jim was a close family friend. We wanted our ceremony to be deeply personal, and Jim was able to write a beautiful ceremony script incorporating all of our desires within our 20 minute timeframe. In addition to a great day-of-wedding experience, he also filled us with numerous laughs throughout the process keeping wedding planning lighthearted and meaningful. We 100% recommend Jim to every couple!
Working with Journeys of the Heart was a great experience. The initial connection to our specific officiant, Jim R, was smooth and easy. And then Jim was awesome to work with. He made it a point to get to know us so that he could personalize our ceremony for us. We were especially grateful for his reflection on us as a couple, and his ways of tying in Christian elements to our ceremony. We received tons of compliments on how the ceremony went and Jim's orchestrating of it. I definitely would recommend looking into this group if you are looking for officiants that would work to personalize your ceremony!
From the bottom of our hearts, thank you for being willing to step in so last minute. You honestly saved our day and we are very grateful to have had such a beautiful ceremony (and peace of mind) with you there.
And of course, we'll keep you in mind for anything we can recommend you for! You are very much appreciated!
Please have a Thanksgiving filled with love and a happy holiday season overall!
Always,
Jim Rosengarten was the officiant for our wedding on 11/15/19 and we could not have chosen someone better. He was always professional and courteous. He had a great sense of humor and always made us feel at ease (especially during a stressful time!). We 100% recommend him!
Thank you so very much, Jim! Everyone had nothing but great things to say about the ceremony. It felt so personal and special.
Thank you for creating such a memorable ceremony for us!
Hi Jim,
Chris and I can not thank you enough for officiating our ceremony 
last Friday
.  It was honestly perfect and you made everything so easy, yet personal. Everyone complimented us on what an amazing job you did and we are just so thankful!  It was such a special day!!  Thanks again and take care!!
Hi Jim,
We can't thank you enough for all of your help from start to finish.  You eased our nerves and made the ceremony seamless!
We will be sure to send any future couples we know your way.
Thank you again!
Dear Jim,
The day we first met you, we knew we made the right choice regarding an officiant for our wedding – the first day of the rest of our lives together.
Thank you for your insight, patience, and understanding, and most of all, your outstanding facilitation of our wedding ceremony.  Of course, extra special 'kudos' for officiating in 90+ degree weather with random raindrops.  You officiated a very intimate and memorable ceremony…
You will always have a very special place in our history.
Hey Jim,
Thank you, thank you, thank you for helping to make our ceremony so beautiful!! It was exactly what we dreamed that it would be, and we got non-stop compliments the entire night on what a wonderful job you did! People were raving! It was such a pleasure working with you, you made this entire process so easy and your kind and inspiring words have been greatly appreciated! I will absolutely be posting great reviews for you! So thank you again, you were absolutely amazing and we couldn't have asked for anyone better!
Jim helped us create the most meaningful ceremony… one that was unique and secular, but with a nod to our Catholic upbringings.  Everyone complimented us and said it was the best wedding ceremony they'd ever seen – and so much of it was from the creative collaboration we had with Jim!  Can't recommend Journeys of the Heart enough.
Dear Jim,
Thank you for participating in our wedding.  You truly brought the love, grace and humor all together to help tell the story of us…
Again, I am so glad Justin and I celebrated our wedding with you, you truly did an amazing job.
Warm Regards
Journeys of the Heart and our officiant, Jim, made our wedding day very special. There was warmth, friendliness and professionalism with every interaction and we are so grateful – thank you!
We used Journeys of the Heart for our service and Jim was our officiant! I can't say enough nice things about him. He made sure he really got to know us before our service and his attention to detail was fabulous! We joke that he was family because two months before my wedding he married my sister and her husband, in a few weeks he will be marrying my father-in-law and his bride to be! Thank you Jim for your kind soul and wonderful service to Mark and myself! We will forever remember you!
Jim Rosengarten was by far the BEST officiant ever! At the rehearsal I was completely put at ease by his humor and calming nature. Many of the bridal party commented on him breaking the ice! He was extremely flexible and didn't mind emailing back and forth when changes arose. We had to tweak the ceremony because the bridal party was uneven, we added a coin exchange and we wanted a "Last Chance to Run" sign! He put all of this together for us. It was amazing seeing all of my visions be put into action. I must add more on his humor! If you want someone that jokes around…pick Jim. Thanks Jim! Can't wait for a baby blessing (not any time soon!). Thank you!
There are not enough words to express how grateful my husband and I are of Jim Rosengarten. We knew we wanted a non-denominational wedding and found Journeys of the Heart. There we went through each profile and automatically felt a connection to Jim. I connected to him because like him, I am a Friend's school teacher, and my husband connected to Jim's love of history. From our first meeting his laid back and fun personality hooked us and we knew we needed him as our officiant. Our ceremony was absolutely perfect. Jim was able to pull information from us and created a heartfelt synopsis of our relationship. He also added humor in all the right places to create a mood that our guests continued to talk about weeks after our wedding.
We highly recommend using Jim Rosengarten from Journeys of the Heart!
Dear Jim,
I wanted to take a moment to say thank you for making the "formal" part of the day so wonderful and intimate. I must admit I was a little skeptical at first, but John and Andi both seemed so confident in you after they met you last winter, I had to trust their judgment. They were absolutely correct in their faith in you. Your ability to blend humor, making it personal, yet not losing sight of the seriousness of the event – including the spiritual side – just added to the specialness of the day. Your presence is and will always be a wonderful part of the memories we hold of the day. Thank you again and I hope that you continue this service for those of us that just do not fit into the traditional religious mold. It is reassuring to know that alternatives do exist. Thank you again and it was a pleasure to meet you.
With sincerest regards,