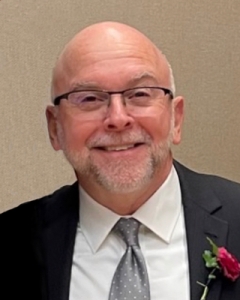 Jim's genuine kindness and authenticity, combined with his quick sense of humor, creates a warm feeling of welcome and acceptance that allows others to feel valued and safe in his presence. He deeply appreciates being invited into people's lives to help create meaningful ceremonies to mark life's significant milestones, infusing these occasions with joy and beauty. Jim is skillful, sensitive, and intuitive to the needs of others. He has wide-reaching and diverse experience in education, ministry, and social services which has helped him become adept at honoring individual uniqueness while generating a heartfelt spirit of community whatever may be the ceremonial occasion.
Jim served for over eight years as an ordained Roman Catholic priest. During his years in active church ministry he worked as assistant pastor, chaplain, teacher, and high school administrator. Wishing to be of wider and more inclusive service to others, Jim broadened his calling through ordination as an interfaith minister.
Jim has a deep love of learning and academics, and holds advanced degrees in education, theology, and social work. He has worked in the child welfare field for over 30 years and served as the Director of Social Service in the Child Advocacy Unit at the Defender Association of Philadelphia. Jim is currently the Director of Social Work Training at the Defender where he develops and facilitates events and training that enhance the knowledge and expertise of social workers who work with adult and juvenile and criminal defendants and children in the dependency court system. Jim is committed to bringing compassion, healing and hope to the clients and staff he encounters each day.
Jim enjoys a quiet, peaceful home in Palmyra, NJ. There, with his west highland terrier, Desi, he enjoys entertaining family and friends with quiet and relaxing dinners as well as evenings of fun, filled with energizing and thought-provoking conversation. Jim's love for travel has taken him to such far off places as India, the Netherlands, Brussels, London, Italy, Athens, Brazil, Argentina, and the Greek Islands, as well as the islands of the Caribbean and many places across the US.
Jim enjoys movies and the theater and thinks nothing of taking a spur of the moment trip with to New York City with friends to stand in line in Times Square for discount tickets to a show or concert. Ever the student, Jim loves to read and finds books and articles on spirituality, personal growth, and self-improvement to be rewarding and interesting.
Jim is grateful for the periods of growth and transition that he has experienced in his life. It is the depth and richness of these experiences that Jim shares with those he serves through Journeys of the Heart.
A Perfect Choice
From the moment we first met and spoke to Jim Haley about the vision of our wedding, we knew he was the person to share out story. His follow-up, guidance, support, patience and compassion were truly amazing throughout the entire process, especially as we had to reschedule our wedding multiple times. Jim went above and beyond to take the time to get to know us on a more personal level and it really showed during our ceremony. It seemed as if we'd known him forever as we listened to him tell our story. We received countless compliments about how intimate and personal our ceremony was and how much everyone enjoyed it. Jim made us feel comfortable throughout which especially helped ease our nerves and anxiousness the day of our wedding. He made our day more special than we could've ever imagined and we would highly recommend him.
Hi Jim!!
Thank you so much again for everything. We received so many compliments on our ceremony, and so many of our guests asked how long we've known each other! You seemed like a long time family friend and the ceremony was truly amazing. Thank you for all of your time with planning and preparing. 
We will definitely get to writing reviews in the next few weeks!! Truly was the best day of our lives, and the ceremony was perfect.
Best,
Journey's of the Heart was suggested to us by our wedding planners. We were then matched with Jim Haley and wow, he was AMAZING. Jim walked us through every step of the process and made sure that our ceremony was exactly what we wanted. Our parents and guests had nothing but great things to say about the ceremony Jim created for us.
Jim Haley and JOTH made our day so incredibly special. From initial inquiry to working with Jim to the actual day, the process was easy, natural and the efforts made our ceremony unique to our love. We cannot thank (and recommend) Jim enough!!
We are truly appreciative of you for making our ceremony so special. You were the one person we worked with that took the time to meet with us and tried to get to know us on a more personal level. It really showed during the ceremony. We received countless compliments throughout the night about how intimate and personal the ceremony was and how much everyone enjoyed it. You made Jim and I feel comfortable throughout which helped ease our anxiousness. Thank you so very much for being so wonderful. We will never forget you or our ceremony and will recommend you a million times over to anyone getting married.
Journeys Made the Custom Ceremony of Our Dreams!
Journeys was fantastic to work with. Jim Haley in particular was a fantastic partner to help make our custom wedding ceremony spectacular. When we first reached out to Jim we did not have a clear vision on what our non-denominational ceremony might look like. Jim guided us through the process and provided us with readings, traditions, and rituals that might fit with our vision. In addition, Jim spent the time to get to know us which he included in the ceremony script. Many of our guests said the ceremony was the most lovely and beautiful that they have ever seen.
My wife and I had the absolute pleasure of working with Jim Haley for our wedding. From the beginning, Jim was incredibly attentive to our needs and questions and helped to deliver a truly amazing ceremony. We received so many compliments on the ceremony itself and how Jim told our love story. It meant so much to us on our special day. Outside the ceremony, Jim was very detailed and insightful, which helped us have a stress free planning approach to the ceremony itself. We would very much recommend Jim and Journeys or the Heart in the future.
Our officiant Jim Haley truly made our ceremony so special, and we are so thankful Journeys of the Heart connected us with him. Over the past year and a half, Jim has gotten to know us individually and as a couple. We feel like he completely understood us, and integrated our personalities into the ceremony. We received so many compliments on how touching our entire ceremony was, and how great he was at delivering our love story. We are so grateful for Jim and Journeys, and will cherish forever the fact that he married us.
We could not have been happier with our experience with Journeys of the Heart and our officiant, Jim Haley. From our first initial phone call with Jim, we knew right away it was the right choice for our elopement. Jim created such a beautiful and unique ceremony that was heartfelt and perfectly us. We will forever be grateful for Jim for making our day so special.
We contracted with Journeys of the Heart for our wedding ceremony and were so happy with everything! We were torn between doing a ceremony in a church and in a venue and decided it would be best to have the ceremony in our reception venue. We worked with Jim H. and were so impressed with his professionalism and public speaking skills. We also felt pretty at ease with 100 people looking at us and credit Jim for helping us feel so prepared and comfortable. We are so appreciative.
Jim Haley from Journeys of the Heart was such a pleasure to work with!
Highly recommend Jim and the Journeys of the Heart team to anyone looking for an officiant. Seriously, I am going to suggest to my brother and his fiancé to use them if they don't have anyone in mind already. By the end of the planning process, Jim felt like a member of our family. He took the time to get to know us and created a beautiful ceremony for us. I was never worried about the ceremony because I knew it was in good hands. Can't say enough good things about Jim Haley- highly recommend!!!
Wonderful experience!
We could not be happier with our experience with Journeys of the Heart. We first learned of Journeys at a friend's wedding and were so impressed with the thoughtfulness and professionalism during the ceremony that we immediately looked into booking them for our own wedding. We worked with Jim Haley for our March 5th 2022 wedding and we were thrilled with how our ceremony came together. The initial communication with Journeys and Jim was very efficient, timely and thoughtful. When we met with Jim to start organizing our ceremony, we felt even more confident in our decision. Jim listened to all of our thoughts and somewhat non-traditional ideas and he managed to organize them into a beautiful ceremony. He made the process so easy and he was a pleasure to work with. We had several people tell us how wonderful the ceremony was and we truly feel it was the perfect start to our wedding celebration and marriage.
Jim Haley made our wedding perfect. Jim guided us from the initial consultation through the wedding. He was immediately our friend and that was apparent at our ceremony. Jim was undoubtedly a highlight and great memory of our wedding.
We hired Jim Haley to officiant our wedding and WOW did he deliver!! Our ceremony was about 20 mins long and the mic cut of for a decent part of it. Our guest said it didn't matter they could hear him! He listened to all of our requests and made us feel very comfortable. Jim was very organized and responsive which we thought was important when planning a wedding! We would highly recommend Jim for your ceremony!!
Amazing Wedding Day
Journeys of the Heart set us up with officiant Jim Haley for our wedding in June of 2019. Jim was absolutely amazing to work with. He was friendly, prepared, organized and thorough. He met with us early on and asked us questions to get to know us better. We wanted a more traditional wedding because my husbands grandmother wanted us to get married in a church, but we decided not to.
Jim went above and beyond to make our ceremony everything we wanted it to be. He even made sure to use the Philadelphia Eagles as a big part of the ceremony, because my husband and I are HUGE fans. We received so many compliments about how unique, engaging and personalized our ceremony was. We are BEYOND amazed and happy with all of Jim's work and are so grateful to have had him as our officiant!
Thank you again so much for making our day amazing!!
We worked with Jim Haley on both our covid micro-wedding in October 2020 and our larger celebration in September 2021. We are grateful beyond words for the incredible job that Jim did on both occasions. He feels more like a friend of ours at this point than a vendor. He was very thorough and thoughtful in his preparation for the ceremonies, and asked us questions about ourselves to add a personalized touch. Our wedding guests were incredibly complimentary of the job Jim did, as he made the ceremonies much more engaging/customized than a typical wedding ceremony. We would wholeheartedly recommend working with Jim and Journeys of the Heart – definitely one of the best decisions we made when planning our wedding!!
Jim Haley was wonderful to work with! He was very helpful and professional through the entire process leading up to the wedding date, and performed an excellent ceremony at our wedding. He listens to everything you want included in the ceremony and is willing to make any edits- I even called him the day of my wedding with a last minute change request. I would absolutely recommend him if you want a great and memorable ceremony.
Jim Haley and Journeys of the Heart gave us everything we ever dreamed of in a ceremony and more!
Months later, we still have people coming up to us and telling us that it was the BEST ceremony they have ever been to. Jim understood us as a couple and brought who we are alive. Extremely friendly, welcoming and understanding, we couldn't have chose a better person. If we had to do it over again 1000x, we would still pick Journeys and Jim!!!
Kathryn and I were delighted with the ceremony and wanted to personally thank you for an outstanding job.
Throughout this hectic process we sometimes lost focus on our to do list for the ceremony but your gentle reminders helped us stay on track and in the end it came out perfectly (except the lantern fly that landed on Kathryns dress). Thank you for your professionalism and we received a lot of compliments about the ceremony. We will be happy to recommend you if any of our friends decide to get married.T
Thanks again,
Highly Recommend Jim Haley!
Jim Haley was an excellent Wedding Officiant! We could not have asked for anything better! He created a ceremony that was everything that we were hoping for. Working with him was a pleasure! We very highly recommend him!!!
Jim really cared about creating the wedding ceremony that we envisioned. He took a great deal of time to write a ceremony that was so personal and special to us. He also allowed us to read the ceremony well in advance and make changes together until it was perfect.
If you are still reading reviews, stop and book Journeys of the Heart NOW!
My husband and I could not be happier with our choice to work with Journeys of the Heart for our wedding ceremony. We had the pleasure of working with Jim Haley who was professional, responsive, and helpful throughout the entire process.
Not only did Jim help to keep us organized and provide guidance, but he spent the time getting to know us in order to create a ceremony that was unique and personal to the two of us.
We opted not to have a rehearsal and to be honest it wasn't necessary since Jim had been so involved and organized beforehand. The day of our wedding couldn't have gone better and we have been receiving nonstop compliments in the last two months on how beautiful our ceremony was.
I would absolutely recommend Journeys of the Heart, especially Jim Haley. They take the work out of planning your ceremony while keeping it very custom and personal at the same time!
Jim was absolutely amazing from the moment we met him! Kris and I felt as though Jim was genuine, warm and truly happy for us and our future. Jim was extremely easy to work with and was always quick to respond with any questions we may have thought up. The ceremony he delivered was ABSOLUTELY beautiful! He provided us with a ton of resources and choices so that our ceremony could feel as personal as we wanted it to be and that is exactly what it was! Our guests have not stopped talking about how heartwarming our ceremony was! From the way Jim put together our love story to allowing us time to recite our own vows, it was perfect! We can't thank you enough for making the most important moment of our lives simply perfect! We highly recommend Jim and Journeys of the Heart to anyone in search of a beautiful ceremony! Thank you Jim!!
Journeys of the Heart has an excellent selection of officiants for hire and is very responsive in communicating everything you need to know when picking your officiant. We ended up liking Jim Haley's bio best and set up a meeting. He put us at ease immediately with how experienced he is with officiating weddings. We spent some time filling him in on our story, got to hear about his background, and then he guided us through the many choices that shape a ceremony. My wife and I come from different religious backgrounds so we opted for a more spiritual wedding rather than focusing on a certain denomination but he was ready to design our big day to whatever specifications we would have asked. Jim came prepared with options for readings and vows and by the end of our meeting he was giving us a preview of what he might say and I'm fairly certain we could have done the whole thing right then and there. He didn't pressure us one way or another into doing a rehearsal, just left it up to us. We received an advance copy of his transcript complete with our custom love story and the vows we chose and were encouraged to edit it to our liking. The actual ceremony was scorching, thanks to Jim's efforts and the 95+ degree summer heat. We would definitely recommend Jim.
Dear Jim,
Thank you so much for being the most amazing wedding officiant ever. You turned our ceremony into something so beautiful, so special, and so much more than we ever even imagined. We cannot possibly express our gratitude for how well you captured our essence, both as individuals and as a couple. We are forever grateful! Our friends and family were so impressed as well. When we told them we had only met you once in person and corresponded through email, they were blown away. The figured you were a long-standing family friend. We have recommended your company (and specifically you!) to everyone we know. Thank you again, from the bottom of our hearts, for making our special day PERFECT!
My husband and I chose Jim Haley to officiate at our ceremony and he was amazing! He was very professional, organized and stayed on top of our schedule to create the ceremony and procure our license. But, that was just details… More importantly, he telephoned us and spoke with us to begin the process of getting to know who we were immediately. Then he met with us at length to truly understand who we were, our histories and families and what kind of ceremony we were interested in as persons raised in two different faiths. He then wrote us the most beautiful ceremony! We were very pleased with it and with Jim. He showed up early, dealt with our marriage license details and performed a lovely ceremony. We received scads of compliments on our officiant and ceremony! With everything we were worried about, Jim was a reassuring presence. I highly recommend him!!!
Jim Haley was incredible through the whole process. We waited too long to book an officiant and found Jim online. My fiance was nervous as our first choice had been booked and she didn't want ANYONE else. She agreed to meet with Jim and was brought to tears when he went over his basic draft of the ceremony. We knew right then he was the person for the job and delivered big time on our wedding day. He was easy to reach via email, text and phone call which made it very easy with our busy schedule. He was very thorough which put our mind at ease with all the planning as he helped with parts we didn't even think of. Jim is very easy-going and was able to adjust and customize every aspect of our wedding to fit our needs. The day of, our maitre d had a death in the family so her assistant had to try and run the show. Without Jim's guidance, the day would have been a disaster as the girl was fairly new and overwhelmed. The ceremony was beautiful and was one of the main parts of the wedding our guests commented on. I will be recommending him to everyone I know after our great experience with Jim.
My husband and I had a very positive experience with Journeys of the Heart. We chose Jim Haley as our officiant, and we could not be happier with our decision. We wanted to make sure our ceremony reflected our relationship and who we are as a couple; to accomplish this, Jim met with us in person and also sent us a love story questionnaire, which led to the creation of a beautiful ceremony that we absolutely loved. Jim sent us multiple drafts of the ceremony, making whatever changes we requested to make our perfect ceremony. On the day of the wedding, he was organized, friendly, and professional, and we knew we could trust him to take care of all of the necessary legal marriage documents. During our ceremony, there was a rainstorm that was loud enough to interrupt the ceremony; Jim patiently paused the ceremony and waited for our signal to continue with the ceremony when we felt it was the right time. Overall, we would definitely recommend Journeys of the Heart and Jim Haley!
Hi Jim!!
It was such a pleasure working with you, and we can't thank you enough for giving us such a lovely ceremony that so reflected our journey as a couple. I can't tell you what it meant to us that from the moment we met with you, we knew we were going to have a beautiful, meaningful ceremony and never worried about it from that point forward. As soon as we return from Hawaii, we will be thrilled to write some reviews to that effect.
I have to share with you, that more than any other aspect of the wedding, our guests kept coming back to us to tell us how beautiful our ceremony was. So many wanted to know about you and how we found you. We agree, of course, but thought it was nice and that you should know that our guests were really moved by what you put together for us. Thank you, thank you, thank you!!
With our sincere thanks and best wishes to you.
Jim Haley married my new husband and I on 11/7 in Philadelphia and I couldn't be happier. We met him in a coffee shop back in March where we were won over by his kindness, open mindedness, and his willingness to listen to us, and really understand what we want. I grew up in a split household where my father and I are Jewish and my mother and brother are Catholic. My husband grew up without much religion in his life… so therefore, we were looking to pick and choose traditions that were important to us without too much God-talk. Jim let us edit and revise, and he even helped me out with my vows which was SO helpful. He was responsive, kind and professional. The day of our service, he was punctual, and led a service that we are SO proud of. It represented who we are as a couple and I feel so honored to have had him be part of our special day. Everyone should be so lucky to have the same kind of experience!
We will always be grateful to Journeys of the Heart, and especially to our wonderful officiant, Jim Haley, for our beautiful wedding ceremony. Upon our initial request for information from Journeys of the Heart, we found them to be very responsive and informative. We found the many profiles for officiants on their website very helpful in trying to find who might be a good fit for our wedding, and we requested to work with Jim Haley. Jim was so kind and helpful from our very first phone call. We met in person with him shortly thereafter, and he took the time to get to know us and our story, and he used that to begin working with us in shaping our wedding ceremony. He was attentive to every detail right from the start, and paid closest attention to what was most meaningful and important to us as a couple. From our very first meeting, my now husband and I knew we had made the right choice for the most important part of our wedding day. It meant so much to us to have that confidence. Jim worked with us throughout the planning process, keeping us gently on track as we needed to make additional decisions regarding readings, etc. He was so organized and prepared. When our wedding day came, seeing Jim again put any wedding day nerves at ease, and we had a beautiful ceremony that perfectly reflected our journey as a couple. While we always knew we were in good hands with Jim, we were happily surprised that so many of our guests made a point that night to complement our wonderful officiant and our beautiful ceremony, wanting to know more about who he was and how we found him. We could not be more grateful to Journeys of the Heart and to Jim Haley and highly recommend them!
Hi Jim,
Marie and I wanted to take this opportunity to once again thank you so much for the incredible job you did at our wedding. We were so impressed with all the hard work you put into our ceremony. From the first meeting with you to the actual ceremony, it truly was a Journey of the Heart. We loved the first meeting with you where we were able to tell you about how we got together and what we loved about each other. We so enjoyed the questions you gave us to help guide us with our thoughts to make our wedding the most loving and memorable event that it was. We found writing the love stories to be the task we enjoyed the most. We thought it was so nice that we were able to each write our own thoughts and you so skillfully put them together in a way that captured the genuinely heart felt love that we have for each other. Hearing our combined love story for the first time at the actual ceremony was so wonderful. We both were told from almost every guest at our wedding that they had never been to a more personal and intimate wedding ceremony. You made each and every guest journey with us, from our first date to our new beginning as a married couple. The personal touches that you included in the service were so heart felt and endearing. Words cannot express how thankful we are to you for making our special day the most incredible moment so far.
Dear Jim,
I wanted to thank you for the lovely ceremony you provided for Jessie and Brian.  I wish I had been able to speak to you right after the ceremony but I was overcome with emotion and overwhelmed by the events of the day.  Your attention to detail, organization, and wonderful engaging personality gave a very special feeling to the wedding ceremony and helped to make the celebration so meaningful.   I remember a year ago when I was searching frantically for an officiant to marry Jessie and Brian.  I was so worried that I wouldn't be able to find someone who could honor the religious differences and create a special ceremony, and then I found Journeys of the Heart. I know that distance and scheduling were a concern but we are so fortunate that you accepted the request to officiate the wedding. You helped make this special day even more amazing.  Thank you again from our entire family and on behalf of all our family and friends.  We received comments from so many people about the beautiful and very personal and intimate ceremony.  You captured the spirit of the young couple and you were so wonderful to include the memory of Brian's Dad in a touching way. Thank you again.
Thank you Jim for a wonderful ceremony, you made it special for us.
You had a very pleasant way in officiating the service. I love your professionalism with added warm tones throughout the ceremony flow. We look forward to seeing you at your next wedding at the manor.
We cannot possibly say enough amazing things about Jim Haley
He is so incredibly kind, ​thoughtful, and was an absolute joy to work with. He did our secular wedding ceremony in November. Jim is so friendly and was treating us as old family friends from our first contact together. We were honestly dreading the ceremony portion of our wedding, but after talking to Jim and working with him, we were looking forward to the ceremony the most. At our first in-person meeting, which was our second contact with him (before we were booked, with no commitment to book) he walked us through the entire ceremony, with phrasing options, timeline options, etc. He listened to our ideas, things we didn't care for, and from observing us interact with each other, gave us suggestions based on us as a couple and our personalities. We worked through a couple of drafts with him and made an absolutely perfect ceremony. SOO many people complimented us on Jim and our ceremony at the wedding and in the weeks/months after. Journeys of the Heart was easy to get in contact with and the booking process was a breeze. Jim had open and clear communication with us through the process and arrived early to our meetings and our wedding day. We absolutely recommend Jim and Journeys of the Heart- our day wouldn't have been as perfect and memorable without the fantastic ceremony he helped create.