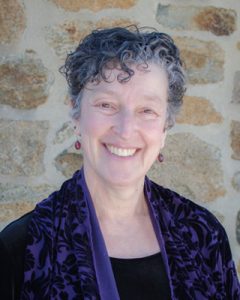 Eve is a beautiful balance of 'old soul' energy and clear, in­the­moment presence! And she is most definitely a people person: warm and caring, fun and animated, calm and reassuring. One of the greatest gifts Eve brings to every relationship in her life (personal and work) is her desire and ability to listen. Her years of experience as a counselor and coach have deepened this natural ability and honed it to an exceptional skill. This skill, combined with Eve's open heart and pure desire to hear people's stories, makes her a perfect match for Journeys of the Heart.
Eve loves to create and participate in ritual. She playfully calls herself a Pagan Jew, honoring her powerful connection to trees and birds and the earth while acknowledging her Jewish roots. She is happy to work with couples from all religions and backgrounds and is especially thrilled to officiate at same-sex weddings.
Eve learned about tolerance, respect, and appreciation for other cultures and religions from her parents, Holocaust survivors. They married in the middle of the war in Poland and she remembers hearing the stories about how her parents' friends and family contributed bits of jewelry to make their rings, and shared food and clothes so they could have a wedding celebration during wartime. In hearing these family stories, Eve developed a strong sense of the passion, intention, and love from family and friends that can be brought to a wedding ceremony. This is what inspires her as she works with couples to create their own unique and meaningful ceremony.
Eve believes that having a sense of humor and playful nature is essential to getting through all that life throws at us – and that certainly includes love and marriage! Eve loves animals, dancing, and listens to music of all kinds, especially the blues.
The perfect ceremony!
We could not have been happier with Eve as our Officiant! Eve took the time to get to know us, and she helped us craft a beautiful wedding ceremony that was absolutely lovely! There really aren't words to describe how pleased we were with our ceremony on our wedding day.
Perfect for our happily ever after!
From the moment we first met Eve Wenger, we knew that we wanted her to marry us. She has such a warm and calming personality, that we both immediately felt comfortable in her presence. She was easy to work with and very responsive, as we were going through the ceremony planning stages and making any final touches! The ceremony was so sweet and just what we wanted.
Our officiant, Eve Wenger, from Journeys of the Heart was absolutely amazing! Something about her demeanor just immediately instilled a calm in us, even though we had contacted her approximately two weeks prior to the wedding. Despite the extremely short notice, she cut no corners, emailing back and forth with ideas for the ceremony. The ceremony was made special through the bits of our personalities she weaved into her words. The most meaningful piece of the ceremony was having one of our grandfathers read a piece about what marriage means to him, which was Eve's suggestion. Regardless of how much time we had to plan, I don't think we could have found a better officiant.
Eve is so lovely and caring!
Eve Wenger was amazing to work with throughout the whole process and she did a fantastic job officiating our ceremony! From the moment we met with Eve, we knew she was the right person to marry us 🙂 She has such a pleasant and calming nature. Eve worked with us to create the perfect ceremony that was unique and true to our relationship. During the planning process we had several phone/skype/email conversations and she provided us with a lot of examples of readings, rituals, vow wording, ring exchange wording, etc. This helped us a lot! We also added wording and readings that we liked on our own and Eve crafted it into a beautiful ceremony that flowed perfectly. Many people came up to us and told us how beautiful our ceremony was and how lovely Eve's delivery was. One thing that we especially loved was how she wove our love story into the ceremony. We filled out a questionnaire about our relationship and the way she told our story was beautiful! It made it unique to our love and not just generic. We love Eve and are so happy that she was part of the best day of our lives!
We loved Eve!
We saw Eve Wenger officiate a friend's wedding months before we were engaged.  When we proposed and wedding planning was underway, we both suggested seeing if Eve was available for our wedding. We were moved by the way she spoke, structured her ceremony, and the overall loving energy she emitted.  We were so fortunate that Eve was available to do our ceremony a year later.  She was extremely helpful during the planning process.  She was able to provide us with great suggestions in areas of the ceremony we were unsure of.  Where we knew exactly what we wanted, even though it broke with popular traditions, Eve never pressured us to alter the ceremony in any way.  She provided us with many opportunities to revise and add to the ceremony.  The day of our wedding, she was a calming presence and honestly felt like another family member.  We are so thankful that she came into our lives, starting our marriage off in such a loving way.
We had a phenomenal experience with Journey's of the Heart. Eve was so warm and sweet, we made our decision to have her as our officiant after our first meeting. She gave us a lot of options and flexibility when creating our reading and our whole family thought the ceremony was absolutely perfect. Thanks for making our day so special Eve!
My husband and I were so happy with our officiate, Eve Wenger. She communicated well through out the whole process and fine tuned our wedding ceremony with the feedback we provided. She is such a warm and caring individual. So much so that I felt inclined to hug her as soon as I met her. Everyone at our wedding raved about what a good job she did. I would highly recommend her to anyone.
Absolutely adored Eve Wenger and the warmth she brought to my wedding day!  I absolutely loved my wedding co-officiant Eve Wenger, who we found through Journey of the Heart.  Eve was such a calming voice throughout the planning process and then especially on the day of my wedding.  She was also a voice and advocate for me, as we were doing an interfaith wedding, where the priest had known my husband's family for practically their entire lives.  Hearing Eve's voice and seeing her face put me immediately at ease.  She just has a natural calming and rational presence about her that is so necessary for anyone's wedding day.  She also works with you in whatever capacity you want.  She is more than happy to do all the research and put together vows from scratch, or, if you are a crazy OCD bride like me, she will do exactly as you want and say exactly what you want her to say (adding in suggestions and tidbits that were extremely welcomed!)  I would recommend Eve to anyone!!  Love you Eve!!
Eve was absolutely wonderful! From the moment we met her, she was so warm and inviting. She described her services as being very flexible and accommodating to however we wanted our wedding to go. That said, she assured us that she'd share many ideas with us so we didn't have to come up with everything from scratch. She shared tons of readings, ways to do vows, ways to exchange rings, how to integrate the story of how we met, and suggested transitions for one part of the ceremony to the next. She integrated the couple of religious traditions we wanted, and suggested ways to begin and to end. The final result? Eve helped us create an INCREDIBLY beautiful and touching ceremony. I had many of my friends and family come up to us, completely unsolicited, and the first thing out of their mouth was how beautiful they found it to be. One of my husband's friend commented, after he heard my husband say his vows, that even HE was ready to marry him. My cousins (who were much more religious than I) also commented on the loveliness of the ceremony which was a huge complement. My mother-in-law described it as a wonderful mixture of humanism with religious traditions mixed in. She loved it. My parents did as well. Thank you so much Eve for such a great and memorable experience.
Eve Wenger was fantastic!
We were looking to have a non-religious but spiritual wedding ceremony that was truly meaningful to us as well as to the wonderful people in our lives who have supported and cared for us.  As a gay couple, we wanted our ceremony to have a traditional flow, but with components that really were personal and meaningful to us.  For this to occur, we needed a very special and talented officiant, one we found in Eve … from Journeys of the Heart.  Any concerns we may have had about creating the perfect ceremony were eliminated after meeting with Eve.  It was obvious from the start that Eve truly wanted to get to know us and to work with us to create a ceremony that reflected what we desired.  It was perfect!! Words will never be able to express how grateful we are to Eve and how thankful we are to Journeys of the Heart for making our wedding ceremony everything we had hoped for.
My husband and I worked with Eve for our wedding in October. We had a rough start trying to find officiants and when we met Eve, we knew right away! She is super warm, friendly, and attentive. Her approach was flexible and was about what we wanted and what meant most to us as a couple. It meant so much to have a Jewish ceremony rich in culture but not religious. We got amazing compliments and I think the best was "that was the most personalized ceremony I've ever been to." Working with Eve and Journeys was one of our best decisions while planning our wedding.
When we were planning our wedding, I had an exact picture of what our ceremony would be like, very heartfelt and also a little silly, something to capture us as a couple and our relationship as a whole. Finding the perfect person to help us create this without charging us an arm and a leg was the tough part, until we met Eve at a bridal show! Eve was amazing through the entire planning process; she made sure that our ceremony was exactly what we wanted, no matter how many changes or edits we sent her. Our guests are still talking about our ceremony and how personalized it was and how it beautifully represented us as a couple. I would recommend Eve over and over again to anyone who is in need of an Officiant.
Hello Journeys of Heart –
Tiffany and I got married on May 15, 2015, in Media. Eve did our ceremony, and it was fabulous. She did a fantastic job and was so loving and caring during the process of getting information from Tiffany and I about our lives. She also included our 7-year-old daughter, Peyton, into the ceremony. Eve was very patient and loving towards our family and our ceremony. We would recommend her services to any couple. Thank you so, so much for recommending Eve to work with us on our special day.
Thanks
Our officiant was Eve Wenger, and she was so fantastic! Eve was wonderful to work with, and she made our whole experience really great. We loved how personalized our ceremony was! Eve had so many different readings, vows, and all sorts of ideas for us to pick from. We received many compliments from out guests as to how lovely our ceremony was. We both highly recommend Eve!!
Thank you so much, Eve. It was a wonderful day, and you played an important role. I was very happy with the final script, it was perfect, and you got us there. You brought a peaceful and caring presence to the ceremony. Thank you again!
Eve from Journeys of the Heart provided us with the most beautiful ceremony.  Many people have told us it was one of the most personal, heartfelt ceremonies they have ever witnessed.  My husband & I come from different backgrounds (Catholic & Jewish), but are not very religious ourselves.  We really just wanted a highly personal ceremony that told our love story, while blending in some traditions from our different backgrounds.  Together with Eve, we crafted an absolutely beautiful ceremony!  We met with her in person once, and had unlimited e-mail communications with her. She made sure we were 100% happy with our ceremony before our big day.  Eve is very warm, and we were drawn to her because of her bio on Journeys of the Heart's website.  We are so happy with our big day – thank you so much Eve & Journeys of the Heart!
Eve Wenger from Journeys of the Heart was our wedding officiant. I have nothing but AMAZING things to say about Eve! From our very first meeting we felt so comfortable with Eve, and we knew we didn't have to look any further! She is so kind, warm, and caring, and went above and beyond to make our ceremony everything we wanted. It was more beautiful than we could have ever imagined! We received so many compliments from our guests on how beautiful our ceremony was and how incredible a job Eve did! She kept in touch with us throughout our planning process and was incredibly detail-oriented. Eve made our ceremony so personal and was always very respectful of our wishes. She was so easy to communicate with and we thoroughly enjoyed working with her from beginning to end!
Eve Wenger was our officiant at our wedding at the James A. Michener Art Museum in Doylestown, PA. The entire wedding planning process was easy for us except for deciding what to do about the ceremony. My husband and I have different religious backgrounds and knew we wanted it to be very personal but had a difficult time finding someone who could make our vision come to life. Once we had our first call with Eve we knew that she was perfect for the job! Eve worked with us to write a very unique and heartwarming ceremony which left everyone feeling connected to us and our love. Many guests told us it was the most meaningful ceremony they had ever witnessed- and we know this would not have bee possible without Eve delivering the words with such poise. We could not recommend her enough!
Eve Wenger is Wonderful!
Eve Wenger of Journeys of the Heart was absolutely wonderful to work with. From start to finish, she made sure that the most important part of our day was perfect. From the first time we met Eve, we knew she was the one we wanted to marry us. She took her time in getting to know us, spent countless hours on perfecting our ceremony ensuring that our feedback was all captured. She made our wedding day absolutely perfect and everyone raved about our ceremony after. Eve was wonderful to work with from day one and up through and even after our wedding. Not only did she perform such a beautiful ceremony, she left us with the most special gift..a copy of our entire wedding ceremony all beautifully typed up and binded together. We have already recommended Eve to other newly engaged couples. You will not be sorry if you choose Eve for your special day.
Working with Eve was, simply put, a pleasure. I don't believe we could have picked someone better to officiate our wedding day.
We had originally looked into Journey's of the Heart by a recommendation from our venue, and we're so happy we did. When we contacted them, they answered all of our questions, gave us all the information we'd need, and then provided us with the list of officiants we could choose from. Picking Eve; however, was not a hard decision.
She contacted us by email, arranging our no obligation consultation, and even agreed to meeting us halfway as we lived quite a distance from each other. During our consultation, she spent a good couple hours getting to know us, both as a couple and as individuals, and we left our consultation knowing we'd end up choosing Eve.
She made the entire process easy and stress free. She worked with our every need and request, sending draft after draft of our ceremony until it was perfect and everything we had hoped for. She even sent us examples and scriptures we could choose from to make our ceremony our own.
Eve was everything we could have asked for, and on our big day, she was everything and more. She went so far beyond our expectations.
Not only did she show up early to make sure everything was going smoothly, but she even assisted us with getting ready. When we couldn't locate the ribbon we had purchases to tie our rings to our 'dog bearer', she went into our reception area in search of it herself. What really blew us away; however, was when she handed us a copy of our ceremony, including our vowels, laminated and in a folder. We weren't expecting this, but are SO grateful to have it! Eve even filed out marriage license for us, which was another thing we weren't expecting, but took a load off our shoulders and allowed us to finally let loose and enjoy being married.
I would recommend Eve to everyone. Not only was she kind, patient, and attentive, but she was really there for us on our day and when we needed her most.
Thank you for everything, Eve!