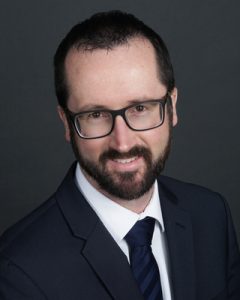 David believes that all life is sacred and that working with couples to create a wedding ceremony that reflects their love, values, hopes and dreams is profoundly enriching to their life as well as his own. He seeks to create a joyous ceremony for them and all who celebrate with them and is grateful that Journeys of the Heart provides a place where he can provide that service to such a wide variety of couples. David is an ordained minister and serves as the pastor of a church community in Montgomery County, Pennsylvania.
Before enrolling in seminary, David worked at a women's shelter in Harrisburg, Pennsylvania. While in graduate school, David co-led cross cultural peace studies programs to South Africa and had the immense privilege of participating in an intimate sunrise Eucharist Service led by Archbishop Desmond Tutu.  Also, while in South Africa he tried his hand (and feet) at surfing, which was a lot of fun but probably not his best athletic moment.
David is the proud father of an inquisitive little boy named Wendell, named for the poet Wendell Berry who writes so beautifully of the simple life, nature, and good work.  As a nature lover himself, David loves spending time in his garden, which he experiences as a place of life, peace and grace.  In fact, a few years ago, he was featured in a Philadelphia Inquirer story about the connection between gardening and spirituality. David is also an avid sports fan and especially enjoys cheering on the Phillies. He enjoys the distinction of being the first Journeys of the Heart officiant to preside at a wedding ceremony on home plate at beautiful Citizens Bank Park. He also enjoys biking, reading, baking and canning preserves from his own garden.
David loves using his wide variety of interests and gifts (as well as his quick sense of humor) to help others celebrate their important life events with ceremonies created with grace, beauty and joy.
Watch this beautiful wedding video shared by Kelly and Rich. Courtesy of Feeling Wedding Films.
Officiant: David Braneky Prep: David met with us prior to the ceremony and took the time to get to know us as a couple and our relationship. He asked questions to get a personal feel for our love/bond. He created a draft prior to the ceremony and gave us time to edit and review the draft in a prompt manner. Coming from a blended family, he added an additional prayer for my teenage step-daughter to include her, which actually sparked tears for her and several guests.
Ceremony: On the day of the wedding, David arrived promptly and worked together with the DJ to set up the acoustics for the ceremony. This was seamless for us as we were preoccupied on photos. The ceremony itself consisted of a larger crowd but felt intimate with David's lead. Within the 20-30 minute span, we had laughter, tears, and extremely heart-felt moments. I highly recommend David for your wedding and am so glad we selected him as our officiant!
What a great experience
We had a great experience working with David Braneky. We can't say thank you enough for helping to make our day special. We really enjoyed working with David – he guided us through a structured approach to getting from first introductions to crafting our wedding ceremony, and made sure if felt personalized to us. We especially appreciated the back up plan that Journeys of the Heart put in place for all of their officiants during this crazy 2020 year of wedding planning an unpredictable changes. It put us at ease that our ability to get married wasn't at risk due to officiant availability. Thank you, David, for helping to make our day a happy one!
Dear David,
We just wanted to let you know that we absolutely loved our ceremony! We can't thank you enough for adding such special touches to our ceremony. It far exceeded our expectations. Isn't it funny how things work out? We have received so many compliments about our ceremony and even more about you! Everyone thought you were great (as did we)! So we are grateful we were able to meet you!! At least your wife will know it was worth missing part of her birthday! We are so happy you were able to perform our wedding ceremony!
My husband and I chose David Braneky as our officiant. We were both brought up in the Catholic Church and still have ties to it, so we wanted a ceremony that mixed together the formality of a Catholic ceremony, along with the religious references, while also still remaining fairly secular. David really seemed to understand what we wanted from our first meeting with him and the ceremony he put together was exactly what we wanted but didn't know how to put into words. We felt very comfortable with David almost immediately and this feeling continued on through our wedding day. He connected individually with both my husband and me before our ceremony and both of us agree that he helped bring a calm atmosphere that made any nerves lessen or disappear completely. I am so happy with how our ceremony turned out and would highly, highly recommend him to any couples looking for the perfect compromise between a serious ceremony and a more relaxed one!
My husband and I would 100% recommend David Braneky with Journeys of the Heart. I am Catholic and my husband is agnostic and finding the right officiant was a challenge from the beginning. My family was convinced that there would be a priest that would marry us, but found that even in this modern day, they only will marry you in the church. After weeks of research to try and find a compromise for my family especially, I kept coming back to Journeys of the Heart. From the beginning phone call, you feel this sense of enthusiasm and professionalism. David was AMAZING and helped us to create a very personal ceremony and also entertain the audience. I felt confident and comfortable around him. More importantly, both of our families and all of our guests expectations were exceeded. If you come from a traditional family and want to honor those traditions, yet make your wedding day unique and memorable, Journeys of the Heart is the right choice!!!
Dear David,
Hi, it is me Kristie … I wanted to say again Thank You sooooo much for all that you did for us and with us. You made our wedding day so special! I must have had 1000 (at least) compliments on the service and how beautiful and unique it was (which is what I wanted). Everyone said that they had never heard anything like it and the words were so beautiful, and finally, I also had so many people tell me how great they thought you were. Your sense of humor kept me calm (and I think at one point help me focus on not passing out lol)!! Best to you always.
David, We wanted to thank you so much for being such an important part of our wedding on July 5th at Pomme.  We apologize that this note is overdue, but we wanted to send you this card so you could see some pictures for the day.  Thank you so much for our beautiful wedding ceremony.  It was exactly what we dreamed of and much more.  We love that it was personalized and captured our personalities.  You did such a good job delivering it.  We always talk about how intimate our ceremony was–we could really feel the energy of our family and friends.  So many people have complimented us on what a great ceremony you did.  We truly appreciate you making our day so special and memorable.  Thank you again.
My husband and I are so thankful for the beautiful ceremony we had, led by David Braneky. Journeys of the Heart was recommended to us and we were given the names of several officiants in our area. After some deliberation, we decided to go with David and we're so glad we did! He was always very professional, but also friendly and humorous. He answered emails quickly and sent us a draft of our ceremony for us to look over well before the wedding. He was very accommodating with all of the ideas we had. I loved how he included our "love story" in our ceremony, and we could tell he really took his time with the writing. Thank you for helping make our special day so perfect!
We worked with David for our ceremony and couldn't have asked for anything better! He was kind, professional and personable and really listened to what we wanted to incorporate in the ceremony. The entire process was smooth sailing. David met with us and then sent us all of the ceremony options, so we could customize it to be exactly what we wanted. Our guests raved about how personal and intimate the ceremony was. We would highly recommend Journeys of the Heart and David for your wedding!
Long story short, David Braneky at Journeys of the Heart was a great officiant! Would highly recommend him!
Here is the long version of the story: we were originally going to try to save money by having a friend do our ceremony, but after going to other weddings where the lack of experience really showed (e.g., the officiant never told guests to sit down, so everyone stood for the whole ceremony despite having chairs; general nervousness/rambling on the part of the officiant, etc), we decided we would rather pay the money to have an experienced officiant perform our ceremony. Journeys of the Heart was recommended to us by our venue and by several friends. My husband and I are both Catholics, and were planning on having a separate, family-only Catholic ceremony later on, but we knew we wanted a touch of religion in our civil ceremony. David, as a pastor, ended up being a great choice. He was somewhat shy in person at our first consultation, but he did an absolutely perfect job at our ceremony. You could tell he was very comfortable addressing a crowd. We ended up making several major changes to our ceremony draft a few weeks before the wedding, but he was very accommodating and changed everything that we requested. He was also very helpful in creating a meaningful celebration for our moms (and dads), as our wedding was over Mother's Day weekend and we knew we wanted to include that as part of the ceremony.  I was nervous because we went with the cheapest option, which did not include an actual rehearsal with him the day before the wedding, but he guided us the whole way through the ceremony, discretely telling us to step closer/hold hands/etc when appropriate. No fumbles, no guests standing for the whole ceremony  It was perfect! Seriously, spend the money and give yourself piece of mind that your wedding ceremony will go as planned! Highly recommend David Braneky!
We received dozens of compliments about how amazing our ceremony was. Despite our nervousness, David Braneky kept everyone calm and comfortable throughout. He helped make our ceremony perfect and catered to our specific requests. David and a coworker wrote a beautiful planting ceremony that was perfect for our zoo wedding. The ceremony was personal, unique, and left few dry eyes!