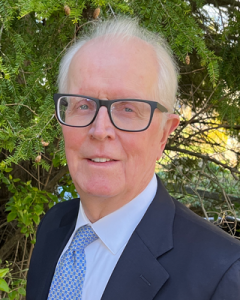 Charlie has been officiating all kinds of wedding ceremonies since 2004 – formal, casual, and everything in-between and in all kinds of locations, venues, and homes – and he loves them all. Now after officiating hundreds of weddings over the years as a solo act, Charlie has joined the team at Journeys of the Heart.
When working with couples, Charlie draws from living his values of acceptance, love, peace, and understanding to help couples have the ceremony they envision for their union. He brings a sense of reverence as well as a spirit of joy and celebration to every occasion he joins.
After graduating from Penn State in 1972 with a degree in literature, Charlie lived through a series of East to West back to East coast moves and some very interesting events (feel free to ask him about these!) He eventually landed at the University of Pennsylvania for 20 years working in Information Technology.
Charlie is also a lifelong musician and songwriter and founded the Humbleman Band. They have been performing their original music all over the NW section of Philadelphia for the past 21 years. These varied experiences have shaped his worldview about connection, the arts, and the importance of relationships.
Years ago, through doing support work for various Native American issues, Charlie had the good fortune of meeting people whose culture, politics, religion, and spirituality were deeply genuine and aligned as part of their everyday life. Non-religious himself, these experiences affected him deeply and have left him humbled and awed. He understands how spirituality can be a positive force when people seek to be closer to God, Allah, Buddha, Wankan Tanka, or whatever path they might follow.
Charlie believes weddings are a most special event as a time when two people take a deep breath, look each other in the eye and say, "I love you, and I will love you for the rest of my life!" He considers this joining a beautiful thing to be part of and believes deeply in helping couples to have their ceremony reflect their love, exactly the way they wish.
A longtime resident of Germantown, where he lives with his family, Charlie is the father of two adult sons.
Best Officiant!
We couldn't have been happier with Charlie. He truly helped to make our day special, especially with everything going on [Pandemic]. He's so gracious and sweet and was a perfect fit for us. Fantastic communication from start to finish. Conducted a beautiful ceremony.
My now husband and I had a great small outdoor wedding at a park in Philadelphia. Charlie Cooper performed the service. He was sweet and very flexible as I made many changes to the standard service even minutes before it started. It was a same sex wedding and he was perfectly comfortable with it. I highly recommend him if your looking for a kind and helpful officiant for your wedding.
Charlie single-handedly (and pretty last minute) made my dream of getting married in the same place my (now) hubby had our first date. He responded quickly, was very straight forward and made everything super simple. All we had to do was show up with the license. Thank you so much! You made this bride SUPER happy. I'm glad to have shared our leap into the next chapter with you. The Best!
Charlie was everything you want in an officiant. He is so helpful and accommodating throughout the planning process and he was so professional on the day of the wedding. We wanted a short but meaningful ceremony and Charlie provided exactly what we had requested. I would highly recommend him.
Charlie officiated our wedding.  He is extremely professional yet laid back and easy going. We had a nontraditional ceremony in a greenhouse. He gave us plenty of ceremony suggestions and met with us beforehand to go over the details of our ceremony. Charlie is available by email or phone and is very responsive. We highly recommend Charlie Cooper for your wedding!