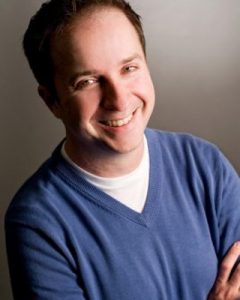 Brian Dixon is a lover of story. Whether it's coming from his 93 year old grandmother sharing memories of growing up in the South or from the old men sipping coffee at McDonald's, spinning half-fact half-fiction sports tales, or from Stephen Sondheim bringing together poetry, song, and dance into one fantastical production, Brian believes stories are what connect all of us in the human experience.
He loves to read stories, to watch them on stage and screen, and to tell them. Brian has shared the tales of the college sweethearts who couldn't take their eyes off each other at a fraternity party, the couple who found love later after not getting it quite right the first time, and the two men who were together for 25 years and raising a family, but only now able to make that commitment legal.
Having worked and lived in big cities and small towns from Fort Lauderdale to San Francisco, and now Philadelphia, Brian has read many chapters of the human drama. In all his work and life, his utmost joy has been to tell the stories of great loves and lives well lived. He considers it a true privilege to share the stories of couples whose lives together are just beginning or to memorialize the one whose physical story has ended. Brian is an ordained minister and a non-profit professional who has compassionately walked alongside those experiencing life's greatest joys and challenges.
When Brian is not telling stories, you might find him running around town. He considers himself a distance runner, having run several half and full marathons, albeit a lazy one. He only runs so that he can eat, which he loves to do…then also talk about what he's eaten…which he also loves to do. Don't even get him started on his list of all-time favorite sandwiches. (Seriously, there's a list.) And he loves to laugh and play.
Brian believes one's life story is meant to be experienced fully, through tears and laughter, routine and adventure, pain and joy, loss and love. And, whenever possible, a really good sandwich.
Brian Dixon from Journeys of the Heart was the best officiant we could have asked for!
Brian was extremely flexible and made sure to check with us about everything. He sent us the script ahead of time for us to make changes, and didn't add anything we didn't approve. He made the entire process so easy, we would absolutely recommend him and Journeys of the Heart to anyone.
We used Journeys of the Heart to officiate our June wedding in Philadelphia. Brian Dixon helped us put together the perfect ceremony, both personal and meaningful to us and our families and friends. Brian was professional. cordial and super skilled at helping to create a version of our love story that we will remember forever. He was also efficient and prompt in getting our marriage paperwork back into the county right away (we also got a wonderful binder that contained our marriage license and certificate, a draft of our ceremony and our vow books). I highly recommend Journeys of the Heart!!
Brian was the perfect officiant. We found Journeys of the Heart through our venue and were so happy we went with them! Brian is warm, approachable and funny. We met with him over Zoom and he asked us tons of questions about ourselves and our relationship. We knew right away we loved him! He made choosing parts of our ceremony easy and honestly has a beautiful, organized set up with lots of ways to make it so personal. His suggestions for words throughout the ceremony were absolutely beautiful. He was very attentive, responsive and so well organized. On such a busy day it's such a relief to have someone who's prepared and 100% there for you. He had everything we needed and made us feel comfortable about the ceremony which can be nerve wracking! After my ceremony, so many guests came up to me asking if Brian was a family friend because he spoke about us as a couple so well. We are so pleased with how perfect our ceremony was and would hire Brian again and again. I can't say enough nice words about him! He's your guy!
Custom Ceremony
Just wanted to drop a few lines to review our recent experience with Journey of the Heart for our recent July 2021 wedding.
From the first email to the day itself, everything was great.
Communication was always quick and clear. Prices were transparent. One of the reasons we like working with Journeys of the Hearts was the knowledge that if anything went wrong and our officiant couldn't make it, that we would have a back up and everything would be taken care of. Didn't need this in the end, but great peace of mind.
Our officiant was Brian. We were looking for a secular wedding ceremony with a hand fasting ritual. He took the time to get to know us, and did a great job weaving our personal story into his script. The hand fasting especially felt very unique and reflective of who we are. We are still getting comments from people about how well the ceremony matched our personalities.
We live in CA and had our ceremony in PA so family could attend. All that to say planning could have been difficult, but Brian worked well by email and virtual calls. We didn't have time for a rehearsal, but Brian was prepared and walked us through the trickiest details briefly beforehand.
All in all, it was a magical day, and we were so happy that Brian and Journeys of the heart helped bring our vision of celebration to life.
Dear Brian,
We are writing to thank you for leading our service last June, now that winter has come and we have had a little time to reflect on the six months that have passed since. David has been sorting through photos from the wedding to bring some of them together into a book for his mother, while Nancy looks on over his shoulder and spins out the memories we both have from that day. First, we want to say how much we appreciated the time you put into interviewing us, and felt the insight gained allowed you to then craft a service from not just what we told you but from who we were as individuals, and from the places we each had come before we could come together. And when all the chaotic preparations culminated in our standing with you before all our family and friends, the professionalism, engagement, and creativity you brought into shaping our own unformed ideas into the body and structure for our wedding service allowed us finally to relax and trust that you had it all under control. And you did. All the separate pieces we had brought to you in the beginning flowed together as a seamless whole. Your homily was, in turns, stately, somber, and irreverently funny, but it always felt like an expression of who we, individually and as a couple, really were, and that was something we felt confident all could hear. Thank you for centering the two of us, and all those who came together to be with us on that day.
Brian from Journey's of the Heart was so easy to work with, professional and took great care when curating our ceremony! He met with us virtually to really get to know us prior to developing our ceremony script/outline so that it was personal and special to us so that we could properly celebrate our marriage! I would highly recommend Journeys of the Heart!
Wonderful Ceremony
We had an amazing experience with Journeys of the Heart. Brian Dixon was our officiant and he was so flexible and supportive when we had to postpone our wedding due to COVID-19. We finally had our ceremony last month and it was beautiful. We loved how personal he made our ceremony. Our guests kept telling us what a great ceremony it was because of Brian.
Wonderful experience
We worked with Brian Dixon as our officiant for our 9/19 wedding. He was wonderful to work with even as we changed plans during pandemic wedding planning. We would recommend him 100%!
We had a fantastic experience with our officiant Brian Dixon. He was extremely organized and professional, and he made the entire process very stress-free. He put together a very personal and heartfelt ceremony for us (within a short time frame that we provided), and helped us incorporate mixed faith traditions. We received endless compliments from our guests on the ceremony! I would HIGHLY recommend Brian!
Wonderful Experience
My husband and I knew we didn't want a "religious" wedding and Journeys of the Heart was recommended by our wedding venue. Brian Dixon was our officiant and our experience with him was great from start to finish. He made us feel comfortable, was flexible when we had to postpone due to COVID, and was very accommodating when I asked if he could incorporate details about my grandmother who had passed away after our original wedding date. I love how he personalized our ceremony with our love story and made it more special.
Brian officiated our wedding and we still receive compliments on our beautiful wedding ceremony. Brian took the time to get to know us and our desires for our ceremony. He took our ideas and told us what would work and what would help make the ceremony memorable. His caring and thoughtful demeanor helped to alleviate the pre-wedding stress. We would highly recommend Brian if you are looking for an officiant who will listen to your desires and make a wedding ceremony that is unique to you.
Dear Brian,
Thank you so much for officiating our ceremony.  Although the days leading up to and including the big event were a blur of hectic planning, frenetic preparing and feverish organizing, you were calm, cool and collected.  Your demeanor was infectious and helped us remain focused on the meaning of the event rather than the logistics.  We will always be grateful for your talent in this area.  What I admire most is your ability to take a rather boring hotel ballroom and convert it into a warm, inviting, and special space that reflected the right balance of our spiritual needs and secular requests.
Personal and Professional
My wife and I are extremely grateful that Brian was our officiant for our wedding day. He handled all the small mishaps, from the microphone not working to the repeated airplanes buzzing by, with poise and professionalism. It was truly a special day for us both and it was only enhanced by Journeys of the Heart's services. Thank you from the bottom of our hearts!