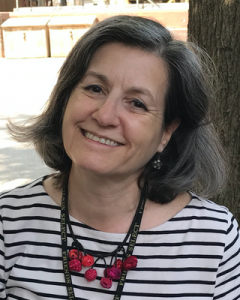 Debby Rickards loves to create weddings that are deeply personal.  She believes that weddings should be heartful, soulful, romantic, sincere, joyful, and memorable! Whether it is devising family rituals for her family to celebrate Hanukkah and Christmas, writing a Haggadah with friends, or making a Fairy Feast to end the school year, Debby is committed to marking occasions with joy and love. She understands that what is sacred to us is contained in all of our actions, from the depths of our hearts to the smiles on our faces, irrespective of religion or belief. She integrates celebrations with delight, love, inclusion, and joy.
Debby is a native New Yorker who has lived in Philadelphia for more than 40 years. She is a proud member of the first class of women at Rutgers College, graduating with a history degree. When her youngest son was born, Debby went back to school and earned a Masters in Elementary Education from Penn and pursued her passion for teaching children to care for each other and the world.
Debby was raised Jewish, but has always held a deep respect for the spirituality of other faiths, cultures, traditions, and value systems. She taught for decades at a Quaker independent school where she found the everyday spiritual life of the community strengthened her own beliefs. The path of "seeking the light in others" is the basis for all that Debby does.
Debby's long and happy marriage to Steve inspires her. The joy they found in their own wedding; building intimacy based on mutual respect, appreciation for their different faith traditions and honoring one another is renewed daily through the good times and the more challenging times. They relish time with each other, time spent with their kids, and each moment with their granddaughter. The growth of family through love has been a wonderfully exciting adventure.
Debby's love of books led her to start a reading group more than thirty-five years ago. The group has been reading together ever since! Besides sinking into a good book, Debby enjoys visiting with friends, taking long walks, singing, and attending the theater.
Debby is delighted to help couples create beautiful ceremonies to tell and honor their own unique stories.
We LOVED our entire experience with Debby. She is a phenomenal minister who helped us to bring together our vision for an interfaith Catholic-Jewish wedding. When the weather turned crazy during our ceremony, Debby rolled with it and made the ceremony feel even more personal. We highly recommend Journeys of the Heart!
Rare and Wonderful Officiants!
We had an incredible experience working with Debby from Journeys of the Heart. She spent so much care crafting an exquisite ceremony for us that brought to life our love, and reflected our values. All of our guests remarked on how meaningful and wonderful your ceremony was! We feel incredibly lucky to have found Debby and I know she will make any wedding she officiates even richer and more beautiful!
Dear Debby,
We cannot thank you enough for your beautiful work officiating!!
We had such a glorious wedding and your words brought to life our love, the spirit and ideas that animate it.
All of our guests remarked on how meaningful and wonderful your ceremony was! Truly it was so perfect, and we feel incredibly lucky to have found you and to be married by you! We will carry your special energy and wisdom as we set out from this new harbor together.
And we will definitely send along some photos as we get them!
Big hugs and thanks!
Debby was such a joy to work with! Besides creating a personal and heartfelt ceremony she was a trusted friend and guide from our first zoom meeting through the big day. Her warmth, humor, and quiet confidence shined through always – and truly added to the love surrounding us that day.
Our officiant was Debby Rickards and everyone at the wedding commented on what an amazing job she did in performing our ceremony. We had an interfaith wedding and Debby put together a lovely ceremony based on our unique love story and the religious aspects we requested to be incorporated. Debby also knew when to kindly step out of the photographer's shot at the end of our ceremony as we walked back down the aisle as husband and wife, which is greatly appreciated! We even received an email from Debby that same night after the wedding detailing the next steps for the marriage license. I would highly recommend Debby and her wedding officiant services.
It was such a privilege to have you with us on our wedding day, we felt very lucky to have someone with us who reciprocated the warmth we felt throughout our day (but especially during our ceremony). We've had so many friends and family members tell us that the ceremony (by way of you) was the best one they'd ever attended and we cannot thank you enough!
Hi Debby,
Thank you so much for EVERYTHING you did to make our day go so perfectly. It was all we could have imagined, and our friends and family LOVED how personalized and beautiful the ceremony was. Thanks again for everything and we are so thankful for all your help and guidance.
Best,
Personal and reverent
We were nervous about selecting an officiant as we were an interfaith marriage interesting in ensuring both of us and our families would be represented somehow. We were so happy to find Debby Rickards. She was the perfect officiant for us and worked with us to customize our ceremony. We felt it was personalized and reverent to both traditions and families. We could not have asked for more. Many guests said it was the best ceremony they ever witnessed!
Thank you so much Debby! I truly cannot thank you enough for such a beautiful ceremony. It was perfect and everything I had hoped for. All of our friends are raving about how warm and meaningful your officiating was. I have no doubt you may be getting some calls from them in the future!! And thank you so much for taking care of mailing the license back to the city. 
Easy, exciting, fun!
My wife and I worked with Debby Rickards from Journeys of the Heart and the experience was wonderful. We wanted a predominantly non-religious/nondenominational ceremony that also showed love and respect for each other's different backgrounds (Jewish bride, Catholic groom). To say we worried about whether we could accomplish this is an understatement. Journeys of the Heart connected us with Debby and she made the entire process of planning a ceremony easy, exciting, and fun. Debby took the time to get to know us, our story, and our expectations and helped create a beautiful ceremony that both of our families raved about. Debby guided us through the planning process and made us feel like VIP clients. She was available for questions/concerns leading up to the wedding and did an amazing job on our wedding day! She even checked in on us afterwards to provide information about our marriage license and to address any other questions/concerns we may have had. My wife and I can't say enough good things about Debby and highly recommend her!
Debby was incredible
We used Journeys of the Heart to select an officiant for our interfaith wedding. We got to meet with Debby Rickards to discuss how we wanted the ceremony to go. She provided the most incredible service that a couple could ask for. She learned about our relationship and truly made us feel comfortable about our big day. She used so many details from our original discussion to create a wedding ceremony that was 100% catered to our specific needs and vision. She was always supportive and let us collaborate with her to make sure the script was exactly how we wanted it.
When it came time for the big day she arrived and delivered the most amazing ceremony. Still to this day, our family and friends tell us that it was the most special wedding ceremony that they've ever seen. This isn't an exaggeration. We loved our wedding and reception, but the Ceremony was absolutely the highlight of our special day. I couldn't recommend this company enough. Thanks Debby!
Debby is Wonderful!
We worked with Debby R from Journey's of the Heart and we can't recommend her enough!  She was SO kind, professional, sweet and polite!  We had a zoom call with her to go over our ceremony, and she created something that was so personal and beautiful!  We were able to work hand in hand with her to create a ceremony that matched us perfectly.  She also was very responsive through email and checked in often.  Highly recommend!
Journeys of the Heart matched my husband and I with Debby Rickards and she was absolutely wonderful. We spoke with three different officiants and Debby was the clear choice from our first initial video call. She took the time to understand our relationship, our outlooks on life and plans for the future. Debby was also very dedicated to understanding what our perfect ceremony would be. We had a small ceremony with just our families present and Debby made sure that everything went smoothly. Our families loved the ceremony and were impressed with what Debby wrote.
I would highly recommend Debby and Journeys of the Heart!
Hi Debby,
Thank you so much for helping make our special day so perfect. All of our family and friends raved about how great the ceremony and officiant was!! You were phenomenal and made the ceremony to be exactly what we had imagined and then some!
Again, thank you so much! You helped make our wedding day so perfect!
Love,
Thank you for an absolutely perfect and beautiful ceremony. Sorry we didn't get a chance to connect afterwards, but just know that you helped make our day so so special for us. We will never forget it. Everyone we spoke to loved it so much and so did we.
Thank you a million times and take care,
Dear Debby,
We wanted to thank you so much for being such a significant part of our wedding day. You walked us through the process from the first time we met and guided us with support and helped us create the perfect wedding ceremony.
You made our special day even more special by your kind and gentle spirit. Your warmth and calm demeanor truly made a difference. We're grateful and blessed that our journeys led us to your caring heart. The room was filled with love and joy.
With love,