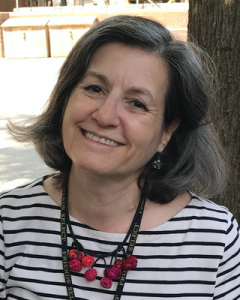 Debby Rickards loves to create celebrations. Whether it is devising family rituals for her family to celebrate Hanukkah and Christmas, writing a Haggadah with friends or making a Fairy Feast to end the school year, Debby is committed to marking occasions with joy and love. She understands that what is sacred to us is contained in all of our actions, from the depths of our hearts to the smiles on our faces, irrespective of religion or belief. She integrates celebrations with delight, love, inclusion and joy.
Debby is a native New Yorker who has lived in Philadelphia for more than 30 years. She is a proud member of the first class of women at Rutgers College, graduating with a history degree. When her youngest son was born, Debby went back to school and earned a Masters in Elementary Education from Penn and pursued her passion for teaching children to care for each other and the world.  
Debby was raised Jewish, but has always held a deep respect for the spirituality of other faiths, cultures, traditions and value systems. She taught for decades at a Quaker independent school where she found the everyday spiritual life of this community strengthened her own beliefs. The path of "seeking the light in others" is the basis for all that Debby does.  
Debby's long and happy marriage to Steve inspires her. The joy they found in their own wedding; building intimacy based on mutual respect, appreciation for their different faith traditions and honoring one other is renewed daily through the good times and the more challenging times. They relish time with each other, time spent with their kids, and each moment with their new granddaughter. The growth of family through love has been a wonderfully exciting adventure.  
Debby's love of books led her to start a reading group more than thirty years ago. The group has been reading together ever since! Besides sinking into a good book, Debby enjoys visiting with friends, taking long walks, singing, and attending the theater.  
Now retired from teaching, Debby is delighted to be with Journeys of the Heart and help couples create beautiful ceremonies to tell and honor their own unique stories.