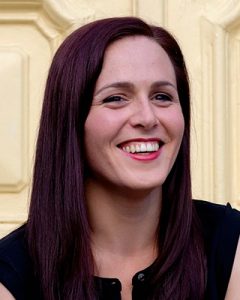 Maura is a Philadelphia native, and grew up surrounded by many communities that embodied boundless love, compassion, acceptance, as well as a thirst for social justice. Maura comes from a family of nurses, social workers, teachers, and people who encouraged sharing your gifts with a world in need. Her experiences as a student at Merion Mercy Academy and Saint Joseph's University inspired her love for service to others; studying Sociology allowed her to listen to people's stories, learn about cultures, and promote health and healing.
Maura has been moved by many opportunities to accompany others, especially through the Casa de la Solidaridad Program in El Salvador and the Jesuit Volunteer Corps. These experiences inspired her current work directing youth programs in north Philadelphia. Accompanying youth and their families gives her a deep sense of gratitude and awe, and fosters a sense of humor and delight at all of life's surprises, especially those seen through a child's eyes.  Currently pursuing her MSW at Temple University has led her to believe even more in the essential essence of connections and community.
Maura started this work as a wedding ceremony vocalist. She believes that music brings people together; it can honor our history and traditions, open our hearts, and help us to celebrate the joy and hope we find in human relationships. Maura approaches her work as an officiant with this same philosophy. Weddings are not only the joining of a couple, but of two families and communities becoming one for the journey. Her background allows her to meet a couple where they are, and create a ceremony that celebrates their unique relationship and their "village."
Maura speaks Spanish as her second language, and is happy to officiate for bilingual ceremonies.
Maura lives in South Philly where she enjoys all the diversity of people, food, and interests that her neighborhood offers.  She also loves singing around the house, yoga, listening to NPR, and a good cup of tea with friends.
Maura was kind and gave us lots of personal attention. She was organized, and friendly, and always prompt. They have lots of helpful suggestions for how to write your own vows, choose readings, etc. She did many revisions to make sure she got every detail of our story correct and we are so grateful for her help in celebrating our special day!
Maura was our officiant and she was absolutely wonderful!!  She met with us and totally created a ceremony catered to our unique bilingual needs, which was very important to my husband and I.  We really wanted a simple, sweet, bilingual ceremony to reflect our personalities and she delivered with perfection!!  Highly recommend her and Journeys of the Heart!