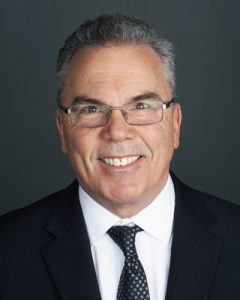 Kevin and his wife Debbie have been married for almost four decades and have seven children and seven grandchildren. When meeting new friends, they often find people's jaws drop when hearing that they are raising such a large family in today's hectic world. Kevin will often respond with a smile and reply, "We are truly blessed…but don't necessarily recommend it!"
What Kevin does recommend is for all of us to look at life, especially life's milestone events, with new eyes and an open heart. His own desire to become a Journeys of the Heart officiant was kindled after participating in the beautiful weddings planned by Journeys for two of his daughters. Each celebration was unique and affirming allowing the flow of a creative, personal expression of love. Kevin knew that the joy, love and gratitude that he felt during and after these sacred ceremonies was calling him to share his own gifts to help others honor and mark their own meaningful celebrations.
One of the gifts that Kevin shares with others is a strong desire to connect his deep and inclusive spirituality with a compassionate response to those in need. Kevin's education (Master's degree in Religious Studies, graduate certificate in Spiritual Direction) formed a strong spiritual foundation but it has been his time with Catholic Social Services that has really made his faith come alive. Kevin has found that his work supporting homeless men and those with intellectual disabilities have especially opened his heart to the 'dance' of the vulnerable and the Divine found in all of us.
Kevin's own dance with family and social work is beautifully balanced by the positive energy and joy he feels though his participation with Journeys of the Heart. A favorite TV series This Is Us reminds him that all our Journeys (pun intended) intersect and encourage us to respond to each other with compassionate, open hearted love. Kevin's appreciation of life extends to all of nature and he loves hiking the many beautiful trails near his Chester County home.
Kevin believes that each ceremony is a privileged opportunity for him to be fully present at a most significant moment in people's lives. He is honored and grateful to bring his many gifts and a welcoming, fun-loving and uniting perspective to this sacred role.
Kevin Barr with Journeys of the Heart was wonderful!
He communicated often and you could tell he wanted to make the ceremony perfect for us as a couple. He provided great insights into the order of the ceremony, gave us recommendations for readings and rituals, and was quick to respond to emails. We received a first draft of the ceremony, which we were able to read over and make changes. We wanted to shorten it because we were having a June ceremony and were worried about the heat. Kevin had no problems with this and made the changes exactly as we asked. Meet with Kevin and you will know he is a genuine person who will put everything into your day! We highly recommend Kevin and Journeys of the Heart!
From the moment we had our initial meeting with Kevin, we knew he was the right person to officiate our ceremony. We talked like we had known each other for years. Our wedding was postponed twice due to COVID, and Kevin was nothing but supportive. Kevin took the time to get to know us, and created such a unique and personalized ceremony. He was in constant communication, and really made our day better than we ever could have imagined. We received so many compliments about the ceremony and how beautiful it was. We highly recommend Kevin!
Beautiful job officiating our ceremony!
Kevin Barr at Journeys of the Heart was absolutely fantastic! He did such a great job putting together our ceremony, listening to what we wanted and how we wanted it to go, incorporated our personal stories and lives into it, and so much more. Our ceremony was perfect, and exactly how we imagined it and Kevin helped make that happen. We can't thank him and Journeys of the Heart enough, and we'd highly recommend Kevin to anyone looking for an officiant.
We were lucky enough to have Kevin Barr as our officiant and he was absolutely wonderful! EVERYONE complimented us on our beautiful and personal ceremony, which is exactly what we wanted. Kevin worked with us for a year to perfect our ceremony and make sure it had all of the elements that we wanted in it (and excluded those that we didn't). It is a special memory to look back and know that your ceremony was customized just for you! I highly recommend Kevin if you are looking for an officiant!
Kevin Barr made our day extra special as he officiated our small, simple yet beautiful ceremony. Kevin gave thoughtful recommendations for the readings and prayers. We loved how he asked us questions about our relationship beforehand and incorporated our answers into the heartfelt ceremony. It was a joyous occasion and our guests enjoyed it as much as we did thanks to Kevin's genuine kindness. We highly recommend Kevin Barr and Journeys of the heart.
Kevin is incredible!
We couldn't be more happy with our decision to use Journeys of the Heart, especially Kevin Barr, for our ceremony. Kevin was absolutely incredible to work with. By the day of our ceremony, it felt like we were being married by a family friend! Kevin has such a rare ability to connect with people instantly. We felt comfortable with him from the second we had our first meeting. Kevin was in constant communication with us in the months leading up to our ceremony to make sure everything was perfect for us. Kevin was absolutely fantastic the day of the ceremony. We honestly could not recommend Kevin as an officiant or a person more highly. Thank you SO much Kevin!!
Kevin was the absolute best!  He really got to know my husband and I before the ceremony, and it made us feel like we were sharing our special day with a friend.  Kevin made our day more special than I could have imagined.  I still have people reaching out to me to tell me that they were overwhelmed by the beautiful ceremony and the special moments Kevin incorporated into our day.  I do not have enough good things to say about our experience.  We worked together to create exactly what we wanted to say, and we could not have been happier with the outcome.
Kevin Barr and Journeys of the Heart really brought our day together. Kevin worked with us long distance via FaceTime, phone calls, and email to make sure our wedding was exactly how we pictured it. He asked questions and really got to know our love for each other and was able to bring that out during our ceremony. Kevin was able to incorporated our NYE theme into our vows in a way that was beautiful. Our guests raved about our ceremony and how they really felt the love that Kevin spoke about. I highly recommend this vendor's services.
Kevin Barr helped us create a beautiful custom wedding ceremony. He was kind, professional and took the time to get to know us and our "love story." There were no surprises. We went through every detail, from wedding vows to ceremony tips. We had a small wedding, with no rehearsal; yet with Kevin's guidance, it went as planned. Our ceremony was both spiritual and meaningful. The bonus is we have a new friend and have planned a dinner with Kevin and his wife. We strongly recommend couples seek Kevin's guidance and wisdom. You will be so pleased!
Wonderful and helpful
My husband and I were married back in August by Kevin Barr form Journeys of the Heart. Kevin was amazing! My husband and I were so happy to to have Kevin guide us through creating our ceremony. It was such a wonderful and memorable part of our wedding day. We received so many compliments on how wonderful and personal our ceremony was.
We would 100% recommend Journeys of the Heart to couples looking for an officiant for their wedding! We decided early on to go the nontraditional route and have an outdoor, personalized wedding ceremony. We found Journeys of the Heart online and were connected with officiant Kevin Barr about a year prior to our wedding date. We really could not have asked for a better officiant than Kevin! After our initial in-person meeting, Kevin put together a personalized ceremony incorporating our unique story and interests. Throughout the planning process, Kevin would check in to see how things were going for us and to offer helpful advice along the way. On the day of our wedding, Kevin pulled off the perfect ceremony, mixing our personalized story with humor and advice. We received (and continue to receive) so many compliments from guests and family on the great job that Kevin did! Over the year of planning, Kevin became a friend. We were so happy to have him play such a big part in our wedding and would recommend him to any couple looking for the perfect officiant for their day.
Kevin Barr was the officiant for our wedding on January 30th, 2021. Erik and I cannot express how much we are thankful to have Kevin enter our lives. Kevin was there for us through our May 2020 postponement, Kevin constantly checked in, and reassured us everything will be okay, and how our love will be celebrated! After knowing Kevin now for almost 2 full years, Kevin really got to know us, we met for lunch pre-covid to go over everything in regards to original May ceremony. After postponing, everything of course moved virtually, but we FaceTimed with Kevin 2 more times before our wedding, and constantly in touch via email. Kevin added such a personal touch to our ceremony, really diving into our love story. Everyone LOVED how personal our ceremony was, everyone said they never been to a wedding that was so deep and personal like ours, but everyone LOVED it and felt like they really understood the love between Erik and I through Kevin's powerful words throughout the ceremony. Some of our guests even asked if Kevin was a close family friend, or our connection to Kevin. Kevin really did go above and beyond to get to know us as individuals as well as us as a couple. We cannot thank Kevin enough for the beautiful ceremony, and uniting us in marriage. He really did go above and beyond, and we cannot recommend him enough, he really was the best!