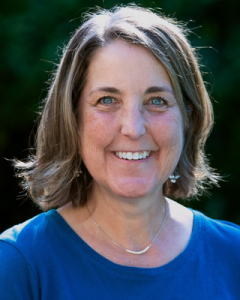 Diane has been with Journeys of the Heart as an officiant and administrator since 2005 and in 2015 was named Executive Director. She is happily immersed in the day-to-day and business aspects of this soul satisfying work. She loves connecting with people about their weddings or other ceremony requests and helping them find the perfect officiant for their needs.
Diane is an intuitive, light-hearted and joyful officiant. She finds immense satisfaction in helping couples have wonderful and memorable ceremonies incorporating their very truest selves with love and delight. Interesting and imaginative ceremonies and venues are of particular interest for Diane and she loves the challenges of creating unique rituals and working in non-traditional settings.
Diane has a master's degree in social work from Temple University, has worked extensively in many different areas of the child advocacy field. She is also an active volunteer for the organization Cure CMD working to forward research and build community for children and families affected by these very rare diseases. Being drawn to work on behalf of people with special needs as an advocate, Diane is adept at planning celebrations and ceremonies where everyone (including kids) feels comfortable and included. She finds it a particular delight when a couple whose wedding she has officiated gets back in touch for her help with their baby's blessing ceremony!
Diane is an avid Philadelphia sports fans, and loves watching, playing and talking sports with her two sons…and anyone, really. Her family has taken many sports related vacations with highlights including a two-week baseball game road trip through the Midwest, a ten-day Canadian hockey themed adventure and one very long plane ride to the NFL Pro Bowl in Hawaii. Diane enjoys yoga, hiking, thrift store shopping and gardening as well as reading and discussing good books. She also loves a really good/bad pun, all kinds of poetry and playing with words and language.
While Diane is funny and loves to laugh, she has a deeply spiritual core that keeps her centered and balanced. She feels grounded in loving-kindness and in the genuine beauty of connection and relationships and works at being grateful every single day. It is this deep love, respect and joy that Diane brings to her work with Journeys of the Heart.
Diane,
You are seriously incredible. We are so thrilled that you officiated our wedding. You truly made this wedding spectacular. Thank you so much for everything.
Everyone was raving about you. Especially our friends in the LGBTQ+ community. It meant so much to us and our friends to mention Obergefell v. Hodges to emphasize the importance of same-sex marriage across the United States. It was only a short seven years ago that our union would not have been federally recognized. The words really moved everyone in our audience, and we are so happy that we were able to experience that moment surrounded by those who love us.
From the bottom of our hearts, thank you. This wedding would not have been what it was without you. We hope to stay in touch, and we of course will recommend you to everyone we know that is getting married and needs an officiant. Please stay safe and well, and enjoy the upcoming holiday season.
All our love,
Hey Diane,
The two of us are beyond thrilled to now be legally married!
It was an absolute pleasure to have you officiate our wedding. You did a spectacular job and made the ceremony so special and so memorable for the two of us. Everybody we spoke to afterward commented on the ceremony and how unique, personal, professional, sweet, and loving it was. So many people came up to the two of us and said that you were wonderful and that you did a phenomenal job, and Emily and I couldn't agree more. You played a vital role in making our day one that neither one of us will ever forget.
The two of us are unbelievably grateful to have had someone as kind, patient, funny, knowledgeable, and giving as you to help walk us through the process and guide us during the ceremony. You made the whole affair stress-free and calmed both our nerves. It was an honor to work with you — you are the best, and I'm so glad we were able to meet you and get to know you.
We'll undoubtedly look back on our wedding with great fondness and remember how terrific you helped make it for us, and we'll have the photos of the three of us atop the steps to always remind us of this fact.
Thank you again from the bottom of our hearts!
Sincerely,
Diane from Journeys of the Heart is a truly special lady!
We were so blessed to have been led to Diane from Journeys of the Heart.  From the first time I spoke with her on the phone, I knew she was THE person meant to officiate our short non denominational ceremony in Glen Mills, PA during COVID.  When I met her, I felt like I was connecting with an old friend!  She is so kind and genuine, and truly took her time getting to know the story of us, and was always quick to respond to any questions we had, and made time to have video chats with us (we lived too far away to easily meet up) we didn't even rehearse with Diane prior to our wedding day and she still showed up early, completely prepared and made the ceremony perfect with her beautiful presence.
When we started to plan our wedding, the ceremony felt like it would be more of a formality. After meeting Diane from Journeys of the Heart, we fell in love with her ideas and realized how special our ceremony would be! Since we had planned our wedding for Spring 2020, the 150 person event that we had originally planned turned into an elopement style ceremony due to COVID19. Diane was extremely flexible, understanding and supportive as we navigated adjusting our wedding plans. Although our ceremony required some modifications, it turned out to be a beautiful and memorable event! Diane was also quick to lend a helping hand and went above and beyond her duties as an officiant. We feel so lucky to have found such a caring officiant!!
Diane was lovely and such a pleasure to work with. She even took the time to come out and meet us for an intimate ceremony with just us two last year as we had to reschedule. The ceremony was perfect and she really got our story down in a heart warming fashion.
Definitely recommend!
Diane,
We want to thank you for how perfect and beautiful our ceremony was because of you. I can't tell you how many people came up to us and said how wonderful you were and asked how we found you because of how great you were. Robert and I, as well as our guests, were raving about you! Thank you from the bottom of our hearts. You are AMAZING.
Pictures to come! Thank you Diane.
Hi Diane 🙂 🙂 🙂
Thank you SO very much!!! We are still on the happiest cloud nine after our wedding day, and can't thank you enough for playing one of the most important roles of the day!!! Your beautiful ceremony was the start to our marriage that we had hoped for – just perfect in every way. We heard there wasn't a dry eye in the house(!), and we received so many compliments on both you and the ceremony!!! Everyone especially loved how personal it felt! WE loved every second of our ceremony from start to finish and will remember our wedding day with the fondest and happiest memories of our lives. Truly, from the bottom of our hearts, thank you for everything.
Thank you also for providing the scanned copy of our marriage certificate! Wish me luck finalizing my name change! 😉
All of our love and thanks to you, Diane. Please keep in touch. Pictures to come!!
Love,
Diane Smith-Hoban is amazing!
Diane was an absolute pleasure to work with from start to finish! From our first Skype session to the third draft of our ceremony, Diane tailored everything to us, our love story, and our families. Every phone call and email was filled with encouragement, kind words, and excitement for our big day. There wasn't a dry eye in the room by the end of the ceremony and we're still receiving compliments from guests about how beautiful it was. Our ceremony was spiritual but secular and included a traditional Celtic handfasting which Diane pulled off flawlessly! Thank you Diane for your patience, enthusiasm, and for sending us off with such beautiful words and wishes. We highly recommend Diane as an officiant – she was professional, attentive, kind, and filled with love and hope for our future together. Thank you for making our day even more special than it already was!
My husband and I recently got married and used Diane as our officiant!  I cannot put into words how thankful we are that we decided to use her!  Throughout the entire process, Diane spoke to us to create a ceremony that was personal and customized to reflect both of us, our vision for the ceremony, and our values; rather than a "cookie cutter" ceremony.  Our ceremony was extremely personalized and guests could not stop talking about how warm and personable Diane was.  Besides the fact that her service was beautiful, Diane is just such a wonderful human being – kind, compassionate, and caring! It was extremely cold on our wedding day and Diane even handed me her beautiful scarf to warm up after hours of picture taking prior to the ceremony starting!  Would recommend her without any hesitation!
Diane is amazing!! Prior to booking, my husband and I met with Diane to go over our needs and wants for our wedding ceremony. We knew from the beginning that we wanted something simple, non-denominational and "us." as far as ideas and thoughts, she mentioned everything we had been thinking. We knew immediately after our meeting that she was meant to be our officiant. Working with her was so easy, and she was always just an email away if we needed any help. After our wedding, so many people asked "Did you know your officiant? She did such an awesome job – it was like she knew you and Chris exactly!" She was a pleasure to work with, and we will definitely be recommending her!
Thank You Diane!
Thank you from both of us. You made our special day even more memorable. When I called Journeys of the Heart, I told (Marguerite) our story and she told me she had the perfect officiant for us – well you were! Not only did you make it fun and funny, you wrote and performed our ceremony in such a way that you captured the spirit of us. Your words made all of our guests feel that they were a very special part of our day and our lives. I am still hearing things about how lovely the ceremony was! Thank you also for handling the rain and all of the day's events with grace and ease…
Dear Diane,
Thank you so much for being our wedding officiant. The ceremony was so personal and touching and it was far and away our favorite part of the day. SO many of our friends and family have commented on how it was such a moving ceremony and our families really enjoyed meeting you. We want to particularly thank you for handling the last minute changes with such grace and wisdom and putting us at ease so we could enjoy the ceremony. When we look back on our wedding day for years to come we will always have fond memories of you and the beautiful ceremony you created for us that reflected our love for each other so well.
My husband and I had Diane as our officiant and we could not have been more satisfied with that decision! We first met with Diane at a local sandwich shop, and we instantly connected. She completely understood what we wanted in our ceremony: non-religious wording, somewhat traditional but with updates phrasing. She took all of our suggestions and our "love story" and made them into a beautiful ceremony. She incorporated the "ritual" we suggested, as well as a part about the symbolism of our rings, which were carved gifted to us by my husband's native Canadian grandfather. We had so many complements about the ceremony, and it was one of our favorite parts. I HIGHLY recommend Diane!!
We contacted Journeys of the Heart to perform our wedding ceremony after they were recommended by our venue (Manayunk Brewing Company). We went with Diane Smith-Hoban as our officiant. When we first met with Diane, she gave us some ideas for the ceremony including different unity ceremonies we could include, readings and scripts for our vows which was a huge help because my husband and I had no idea what we wanted our ceremony to be like. A couple weeks later we made some selections on the ceremony script and then filled out a questionnaire to help Diane get to know us as a couple. We ended up with a ceremony that was so sweet, personal and unique. We did a beer ritual as the "unity ceremony" which involved both of us mixing our favorite beers together and drinking it (we made a black and tan!). The ceremony also included a section where Diane spoke about our story as a couple based on the questionnaire we filled out. When the ceremony was over, our guests could not stop talking about how unique our ceremony was and how awesome the officiant was! Everybody thought that we had known Diane for years based on how she spoke about us. We are so happy we went with Diane and Journeys of the Heart and we would recommend them to everyone!
My husband and I are not very religious, but still wanted a personal and spiritual ceremony. We selected Diane as our officiant and were so lucky that she was available! She was a perfect fit for us. We met with Diane via Skype to learn more about the process and her experience – we booked her right after that call, because it was clear that she is a true professional with a true passion for wedding ceremonies. Not to mention, she has so much experience – she's seen and dealt with it all! She sent us a rough draft of our ceremony with options built in for us to choose from, such as unity ceremony options, reading options, etc. There were multiple options for almost every aspect of the ceremony script, which gave us the opportunity to customize it. Among these options were over 30 different vows that my husband and I mixed and matched to create our individualized vows that said exactly what we wanted to say to one another (without the pressure of having to completely free-write our vows). Diane totally knows what she is doing. For example, she taught us how to take the rings and put them on each other in a seamless way. She stepped aside and whispered the vows in our ear so that the focus would be on us saying the words – and we were able to look at one another the entire time instead of at a paper. Before the ceremony, she talks to the DJ, the wedding party and anyone reading at the ceremony to ensure that everyone is informed about their duties and on the same page. We were continually impressed by Diane. Many of our guests told us throughout the night that it was one of the most beautiful and personal wedding ceremonies they had ever been to- that it had felt like us. It was truly magical- such a wonderful memory. Thank you for everything, Diane! Highly, highly recommended!!