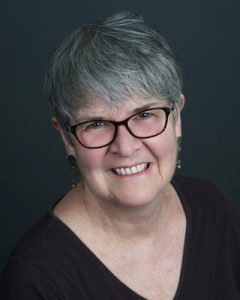 Susanne has a deep love of ritual and ceremony, from sharing coffee with her husband each morning to honoring and celebrating life's major passages. She feels incredibly blessed with abundant opportunity to witness those passages as her work with Journeys of the Heart brings more than the usual amount one might see in a lifetime!
Susanne sees committed partnership as a spiritual practice. Her personal love story began with a total 'leap of faith' as she and Tom (her husband of 35 years) stopped in their tracks the day they met and spent their first few minutes just staring at one another, speechless! (Susanne really "gets it" when couples report "love at first sight.") Knowing they were a meant-to-be from those first moments has offered the solid ground on which they have traveled together over the years, staying committed to their individual growth as well as the work of creating intimate partnership.
Susanne has been blessed with many 'careers' in her life. She has worked in an engineering firm, in the catering world, with the deaf community, in the social services field… each 'career' bringing joy and creative challenge and opportunities for service, all feeding the soul and expanding the heart!
She says now she gets to simply 'love people for a living'! Her work with Journeys of the Heart -in all its many forms: weddings, baby blessings, memorial services and more- is the main way she lives into this career!
Susanne would say the most important 'work' in her life, though, is simply being a mom. She sees her 2 children as her greatest teachers and has always been one to say "I love this age," whether she was talking about her (now adult) children as 2, 15 or 30 year olds.
Susanne and Tom live tucked up on a hill in Stroudsburg, PA with their 'youngest' family member still at home, their beloved dog, Max. They heat their home with wood in the winter (another daily ritual) and cool it with shade in the summer; they make beautiful rich earth in their compost piles; grow as much of their own organic veggies as possible; and are always working on their ever-present list of house projects. They live in what Susanne calls 'a people house' as they find deep satisfaction in having family and friends come to share a meal and music, laughter and games… always finding a way to celebrate life and love!
We used Susanne Wilson through Journeys of the Heart as our officiant, and she was absolutely amazing!  She worked with me as I wanted to write a rough draft of the ceremony first, but wanted her to go through and polish it and make it her own after.  She was so patient and helpful in getting the ceremony to be exactly what I and my husband were hoping for.  The ceremony was beautiful and she was so great throughout the whole process.  I definitely recommend working with Susanne!
Dear Susanne – I am the grandmother of Trisha who you married on July 27th. I wanted to thank you for one of the most meaningful weddings I've ever attended. You spoke right from the heart directly to the bride and groom and with such ease and compassion. You also gave credit to their family and friends who supported them. I was very impressed with the ceremony and the way you brought yourself to it – like you knew Trish and Kurt forever!
Dear Susanne,
We wanted to thank you so much for the beautiful ceremony that you gave us. Honestly, the rest of our wedding was pretty hectic and my memories of the reception already blur together, but our ceremony will stand out in my memory for the rest of my life. You made us feel so comfortable as you guided us through the ceremony, that we were able to really feel present in the moment. We can't thank you enough for your heartfelt words during the ceremony and for your kindness and patience as we planned everything out in the last few weeks before the wedding. We couldn't have asked for a more beautiful and personal ceremony. We both agree that choosing you as our officiant was one of the best wedding planning decisions that we made!
Hi Susanne- I just want to thank you from the bottom of my heart for the beautiful and perfect job you did with our ceremony. As I'm sure you noticed, it was incredibly emotional for the two of us, as well as our families and many guests. We received compliments from everyone regarding how unique, personal, and beautiful the ceremony was. Everyone loved the ring warming, the handfasting, and even the readings we selected. They all commented on your calming demeanor and poise as well. It has been such a pleasure working with you – we truly would not have been able to do it without you (I've already thanked Linda for introducing us). The day felt like a whirlwind passing by, but there are moments from the ceremony that are frozen forever in my mind.
We are so thrilled to have had Susanne as the officiant for our intimate wedding! She crafted a ceremony that was touching, personal, and truly the center of our day. We could not have asked for a warmer person to invite into a day that otherwise consisted of family only. From the first time we met with Susanne a few months before, she put us at ease and thoroughly explained the process of building a ceremony, giving us options for what we might want to include. We wanted our family to feel like they were involved in our union, not just witnessing it. She suggested rituals like a ring warming and readings done by our mothers. Although neither of us are practicing, both sets of parents are, so we wanted a ceremony that walked that line in a way that made all parties comfortable. Susanne immediately knew what would work for us, and once we read her first draft we knew we were in good hands. Leading up to the day, we all worked together to put everything together – our poorly worded suggestions were turned into beautifully written parts of our finished ceremony. She was very flexible, making changes up until the night before. I would recommend her to anyone, and I can't picture our day with anybody else. Thank you, Susanne!
Loved our officiant and ceremony sooooooo much!! Our guests told us it was the best and most moving ceremony they had ever been to! Personal, loving, touching, unique, and funny because it is a customized one of a kind ceremony all about you and your partner, which is what we loved and which made it so special. ❤
I can't even begin to explain how perfect Susanne was for us and our ceremony.  She is literally the sweetest person I've ever met.  She was so easy to talk to and really have us the perfect ceremony.  Everyone loved how she would move my husband around so everyone got a good view during the actual ceremony.  We got so many compliments about her!