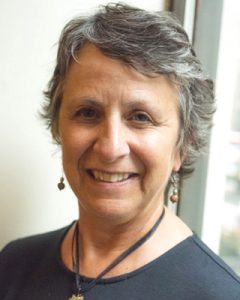 Patricia's great joy in preparation of ceremony as an officiant stems from her varied spiritual background and her keen interest in people. As a self-described nature mystic, Patricia has been deeply connected to the natural world as long as she can remember.
Patricia spent many years studying Buddhist meditation, and contemplative practice is part of her everyday life. She is currently studying the Christian mystics and is drawn to their experiential relationship to the divine. As a perpetual learner and naturally curious person, she genuinely loves helping others to discover what is significant for them and serve as their guide in the creation of meaningful and personalized ceremony. Her wide variety of spiritual engagement and life experiences have nurtured her heart and spirit to be joyfully open and embracing of all.
Patricia was a school librarian for many years. After retirement from high school students and books, she changed direction and worked to become a chaplain at Lancaster General Hospital. As a chaplain, she is grateful for the opportunity to serve others in times of great need and practice the spirituality that is an integral part of her life. In addition to a traditional educational background, Patricia also holds a Master's Degree in Transpersonal Psychology from Naropa University, and attended Richard Rohr's Living School.
Patricia's many interests include reading, gardening, a dedicated yoga practice, kayaking, and hiking the many beautiful trails near her rural home. Exploring nature provides her with many occasions to spot and enjoy all kinds of wildlife – plants and creatures great and small – and enjoy the serene beauty of the many places she traverses. Patricia loves to laugh and is gifted in her ability to find moments of joy and tenderness in just about every situation.
Patricia's experience as a chaplain and officiant has offered her many opportunities to be present at the most sacred moments of people's lives, something she considers a great privilege. This honoring of life's most significant and precious moments is part of every ceremony that she helps to create.
Patricia Larish was absolutely amazing to work with leading up to our wedding and on our rehearsal day and wedding day. She gave us such great attention and made us feel completely as ease. She provided us with great resources for what the day would be like and what we'd need to do before and after for marriage licenses, name changes, etc.
Patricia was always responsive when we reached out to her and she was not only kind, thoughtful and flexible, but we also felt as though she really "got us" in the limited time we had with her. We truly felt cared for by Patricia and could feel and see her joy for us throughout the process and on our wedding day.
Thank you so much for helping us to connect with her. We both agreed that our day wouldn't have been as wonderful as it was if she hadn't been the special person to join us in marriage.
My husband, Eric, and I wanted a brief, yet personal ceremony surrounded by our closest friends and family.  I knew that Patricia would be a perfect fit on our wedding day. Despite a rain delay and venue change as a result, Patricia remained flexible and professional.  She officiated beautifully.  Her words and actions were genuine, sincere and heartfelt. Before pronouncing us husband and wife, Patricia spoke specifically to the events of the day and what she knew of Eric and I as a couple.  It was personal, touching and perfect in every way.