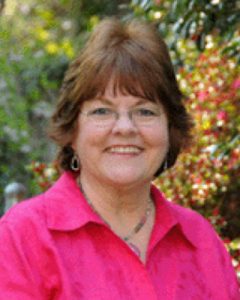 Laura loves listening to stories, whether whispered by the wind and trees in the Wissahickon woods just outside her door or told by couples who engage her to plan a personalized wedding, new parents celebrating a baby blessing ceremony or a family planning a funeral or memorial service for a loved one. That gift of deep listening allows her to hear what's most important to people in these most vulnerable of times—even when they may not even have words for it—and prepare a ceremony that's meaningful to them, their families and friends. Her gentle and caring presence lends just the right touch of solemnity, intimacy, and humor to rituals that mark life's great transitions and milestones.
Laura has been with Journeys of the Heart since the beginning in 1996 and has served as officiant at ceremonies from Vermont to Puerto Rico, and even Citizens Bank Park! Catholic by birth, she discovered and developed her gift for creating and presiding over sacred rituals as a leader of prayer in her church community.
As a planning partner and officiant, Laura is intuitive and skillful at opening up and holding the ritual space where people find ways to express the unique story that is their life. By honoring the individual life narratives and wishes of those who come to her, for richer or poorer, believer or nonbeliever, she has reverence for the sacred and the secular, and finds joy in planning, advising, and creating unique rituals of celebration and remembrance.
A student of psychology in college, Laura earned a Master's Degree in pastoral counseling from Chestnut Hill College, where she also worked as Director of Financial Aid. She has worked with incarcerated women and men for over 17 years, being present to them and their stories while they were in prison and helping them to successfully reintegrate into the community when they are released.
Laura is the mother of an adult son, Jeff, who married a wonderful young woman, Sarah, several years ago bringing not only a daughter into her life but also a "grand-dog" named Lexi. Although Laura was never a "dog" person before, she fell in love with Lexi and decided she wanted one of her own. She rescued a 3-year-old cockapoo named "Mojo" who came all the way from Georgia. Now in the face of Mojo's sweet companionship, unconditional love and warm snuggles, it is no longer clear who is rescuing whom. Mojo also serves as her personal trainer as he sets the brisk pace for twice daily walks.
Laura is grateful for her community of longtime friends and delights in having them come to her home for unhurried visits where they share their stories while sipping a cup of tea or a glass of wine.
Hi Laura,
Thank you for the amazing wedding ceremony that you performed for us. It was touching, spiritual, poignant and so full of love. … You really made the day special for us, and we truly felt that it was a joyous celebration by the manner in which you celebrated with us. We were so honored to have you be a part of our day. It truly made the difference.
Surrounded by family and friends, a cloudy, overcast, humid day in August greeted us on our wedding day. None of that seemed to matter. What did matter was the beautiful ceremony by Laura Ford who joined our two families as one. The service was personal, designed with the two of us in mind. Laura listened to our story, and together we created a ceremony that was romantic, funny and even had the most stoic family members shedding a tear. As we greeted our guests after the wedding every single one commented and are still commenting on how truly special our ceremony was. Every bride and groom dreams of a wedding that they will remember forever, our ceremony will last in our hearts always – and when was the last time anyone remembered what was said at the ceremony – people are still quoting ours.