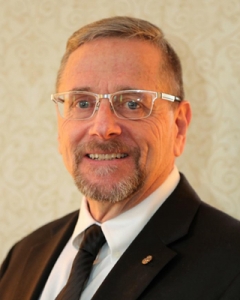 Steve is very much a people person and has felt called to service for as long as he can remember – which has led him on some amazing journeys! After studying Geography and Latin American studies at Villanova University, he moved to rural Guatemala for a two-year assignment with a non-profit human development organization. Steve learned to raise chickens and drill irrigation wells and helped establish a clinic to provide health care for a village of 1,500 people, as well as perfect his Spanish.  These experiences inspired him to pursue a Master's degree in Public Health from Temple University. During his long career in pharmaceutical research, he has helped to shepherd several life changing medications from the laboratory to the marketplace.
Looking to be of service in the aftermath of September 11, 2001, Steve signed on with his local community's volunteer fire company and completed the fire academy training required to become a fully accredited firefighter. Seventeen years later, he remains an active firefighter and is now the company president. His unit responds to about 500 emergencies a year, so Steve generally finds himself riding a fire truck with lights and sirens blaring at least once or twice a day.
Steve has been a Unitarian Universalist lay leader for 25 years. He appreciates that his church has no creed, is non-judgmental, and encourages people of all faiths (or no faith at all) to practice their beliefs in whatever manner they find nurturing and inspirational. As a worship associate, Steve loves creating thought-provoking services that integrate music, readings, and reflections around a cohesive theme such as Values Made Visible in Public Art; Welcoming Immigrants to 2018 America; Spiritual Benefits of Recreation and Leisure, and an annual favorite Our Wild and Precious Lives. As a ceremony officiant, he blends this training with an openness to a variety of rituals and themes to support couples in crafting ceremonies that are personal, unique and memorable. Steve is also very comfortable officiating ceremonies in Spanish.
Steve makes the most of his own wild and precious life. He and his husband Mike have been together for 37 years. From spring through fall, Steve's an umpire in the Mid-Atlantic Vintage Base Ball League. The league's 24 teams play baseball by the rules of 1864 using authentic wool uniforms and equipment of the era. Ever on the lookout for a challenge, he's earned his scuba certification in Mexico, run a marathon in the Soviet Union, and piloted a hang glider in Rio de Janeiro. He is grateful to be able to share his wide-open heart, joyful spirit and genuine enthusiasm with those he serves through Journeys of the Heart.