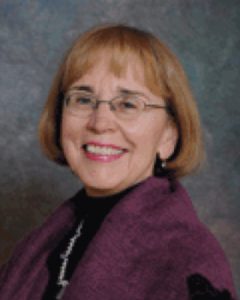 Eileen is a quintessential people person. She loves meeting new people and thoroughly enjoys hearing the stories of their lives. Helping couples plan their own special day provides the most joyous aspects of her life's work. Eileen's years of working as a school nurse in Philadelphia have given her an appreciation of the many paths that bring people together as couples, families and friends. She is acutely aware of the transforming power of love and its ability to overcome language, cultural and religious differences.
Eileen is an ordained priest and co-pastor of the Community of Saint Mary Magdalene, in the Catholic tradition. She has a great deal of experience planning and presiding at ceremonies and services for all occasions. A graduate of The Lutheran Theological Seminary of Philadelphia, Eileen enjoys working with people from diverse faith traditions and backgrounds.
Now in the fourth decade of her own marriage, Eileen believes more than ever in all the hopes, dreams and joys of marriage made visible in a couple's wedding ceremony.
Eileen is deeply devoted to issues of peace and social justice. She is a passionate writer and an articulate speaker for the rights of people who are oppressed because of race, class, gender, religion or sexual orientation. You never know when you might find her name in the newspaper letters to the editor, interviewed on television or quoted in local news articles, as she is a steadfast champion for these issues.
An avid gardener, Eileen loves the outdoors. In the summer, you will find her up to her elbows in mulch, mowing the lawn or weeding her beloved garden. She is also a crossword fiend and a devoted fan of political satire. In her next life, she hopes to be reincarnated as Samantha Bee.
Most of all, Eileen is a devoted wife, mother and grandmother and loves the happy chaos as well as the balance that being with her family brings to her life.
Eileen,
We just want to thank you, from the bottom of our hearts, for everything you did for us to make our wedding ceremony absolutely perfect. We appreciate how helpful and communicative you were with us. We absolutely loved meeting at your home for the first time, that really gave us the opportunity to connect. You were so wonderful through the entire planning process, and we can't thank you enough for that. The love story was so beautiful and perfect, although I did have to tune out for a moment because I felt myself getting very emotional! Big BIG hugs to you, we enjoyed every moment working with you!
Dear Eileen,
I want to say a very heartfelt thank you to you from both Daniel and I. We absolutely LOVED the ceremony. The entire day was perfect and I very much enjoyed the way you incorporated our story into the ceremony. I couldn't have asked for a better wedding day! We also managed to come home with your Tide Stain Stick! (Now that is going above and beyond!) It worked great! I owe you one. Thanks again. You were a great match for us!
Eileen DiFranco was an excellent officiant. She was very flexible and helpful when we were designing the ceremony. She sent a template of the ceremony, which we were encouraged to edit. She also sent numerous examples of possible ring blessings, vows, etc. We each filled out forms detailing how we met, what we liked about each other, and other details about us. She turned this into a "love story," briefly condensing our relationship, which was lovely. But anyone can read the words of the ceremony – it takes someone with dignity and experience to make them sound meaningful. She was calm and confident, and helped make the ceremony very special. It ended up being one of our favorite parts of the day, and we received lots of compliments from the guests, who felt that the ceremony was very personal and meaningful.
We are so incredibly happy that we found Journeys of the Heart (and specifically our officiant Eileen) for our wedding earlier this month.  Eileen put so much thought and care into helping us craft the perfect ceremony that was reflective of our perspectives, values, and family traditions.  Working with her was a pleasure- she is so warm, attentive and thoughtful, and she managed to put us at ease with being the center of attention on the big day.  We've received so many compliments on our ceremony, and all our guests absolutely adored Eileen.  Thank you again for a perfect day!
It was such a great experience working with our officiant, Eileen DiFranco, for our wedding! She is so kind and really took the time to get to know us. She was such a pleasure to work with and helped us create a unique ceremony that fit our personalities. She made our wedding day even more special and we highly recommend her to everyone! Thanks again for everything!!
Thank you for officiating our wedding. We knew from our first meeting that you would do an amazing job. Thank you for all the consultation along the way.
Thank you for creating the most perfect day for us. It was sweet, meaningful, and raved about by family and friends. We're grateful.